NC Insiders Sarah and Elizabeth's Guide to Exploring Fall Favorites in Hickory Metro
We've been working with Visit Hickory Metro for years, and we're both so excited to see the area continue to grow into a destination filled with mouthwatering restaurants, hidden gem stops and new unique additions. And though we may not always agree on which spots are the best, we love food, friends and fun. See where we go for all three.
Downtown Hickory
Established as a social district in 2022, this vibrant area has so many notable places to raise a glass to.
Sarah's recos
The Hum: Just a couple of years old, this outdoor music venue has been a really cool addition to downtown (and that's not just because I sing in my own bands on weekends). And with rotating food and drink vendors, it's the total package for a fun night out.
Dive Bar: Another exciting recent addition, Dive Bar is just that – a dive bar – but with a ton of arcade games, pool tables and darts. Prices are great, and it's kid-friendly until 8 p.m.
Coming soon! Hickory Food Hall: I know it's not even open yet, but I'm so excited about this spot. It'll be housed in a gorgeous old bank that originally opened in 1891, and it's another perfect example of new life being breathed into older buildings here in Hickory.
Elizabeth's Recos
2nd Street Inn: This mini hotel is another recently restored building, and it sits in the heart of downtown Hickory, walkable to everything. The vibe inside is so different than your everyday hotel – all exposed brick, hardwood floors and wrought-iron balconies.
City Walk: Spanning 10 miles, the city walk connects so much of the area and makes it scenic and safe for walkers and bikers to explore.
Hickory Farmers Market: You'll find me here on Wednesdays or Saturdays, picking up a bouquet of the most beautiful flowers you've ever seen from Summer Fresh Flower Farm. The market takes place year-round and has so many options for fresh produce and other homemade goods. You'll pass right by it if you're on the City Walk.
Hart Square Village
We both agree that Hart Square Village is one of our favorite hidden gems in the area. It's the world's largest collection of historic log structures, all curated by Hickory local Dr. Bob Hart, whose granddaughter is now executive director. Though it's not open for general admission, the village holds classes and events regularly.
Living History Festival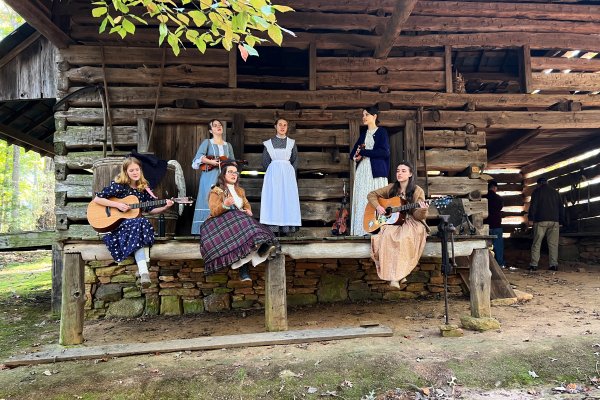 Mark your calendar for Oct. 28! All 100-plus log structures will be open, and demonstrators and artisans will be on-site showing what the 1800s were like in Catawba County. Sometimes ancestors of families that once owned a cabin will be in place wearing period garb, sharing old family photos and answering questions. It's definitely one of the more memorable parts of the event, and the whole experience leaves you feeling so connected to the area.
Pro tips for attending the festival
Wear close-toed shoes; the village is literally in the woods.
Go early to avoid traffic and crowds.
Feel free to come hungry – food trucks will be on the premises.
Food in Hickory
There are no food wars among friends, but sometimes we disagree on which spot is the best of the best. You try them and see who's right!
Where to sip on coffee
The Coffee Nook for Sarah: Park up on a comfy couch and read a book while enjoying your beverage of choice. The book-focused décor is a delight, and the loyalty program cards are cute old-timey library punch cards.
Taste Full Beans Coffee, Tea & Cafe for Elizabeth: If the roughly 75 latte flavors don't get you in the door of the oldest coffeeshop in Hickory, then how about the incredible baked goods, lunch menu and vegan options?
Where to go for date night
Boca for Sarah: Fall alfresco dining is always on the table when there's a huge, cozy fireplace on the patio of this Mediterranean restaurant. The string lights are a lovely touch too.
Charolais Steakhouse for Elizabeth: It's the oldest steakhouse in the county, but it was totally renovated in 2019. The highlights are definitely the salad bar, award-winning wine selection and table-side steak cart where you get to handpick your cut of meat.
Where to get a margarita with your friends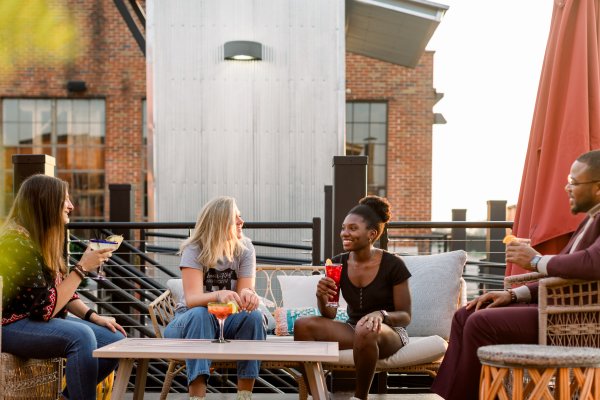 Backstreets Bar & Grill for Sarah: Price, taste, size – the margarita here does it all for me. There's also a great prime rib special on Sundays.
Mas Amor Cantina for Elizabeth: It's all about the experience here. The inside is gorgeous, the rooftop is fantastic, and they have a killer pineapple cilantro margarita – plus tequila flights – on top of it all.
For more fall inspo, see what insider Jen Vogelsberg is up to the next couple of months. And let insiders Dana Grimstead and Veda Gilbert help you start planning your spring trips to NC.
Updated August 29, 2023