NC Mountain Cabins to Rent: Discover Four New Walls That Will Help You Recharge
Find incredible views and adventures at these North Carolina mountain cabins and accommodations. Ranging from luxurious to rustic, they all put you in the middle of nature – the perfect place to soothe your mind, heart and soul.
Destinations you'll find in this article:
Asheville Glamping | Bear Den Campground & Creekside Cabins | Beech Mountain
Boyd Mountain Log Cabins | Cornerstone Cabins & Lodge
Lakes End Cabin & Yurt Rentals | Mountain Light Sanctuary
Shoji Spa & Lodge | Sky Ridge Yurts | The Swag
1

Asheville Glamping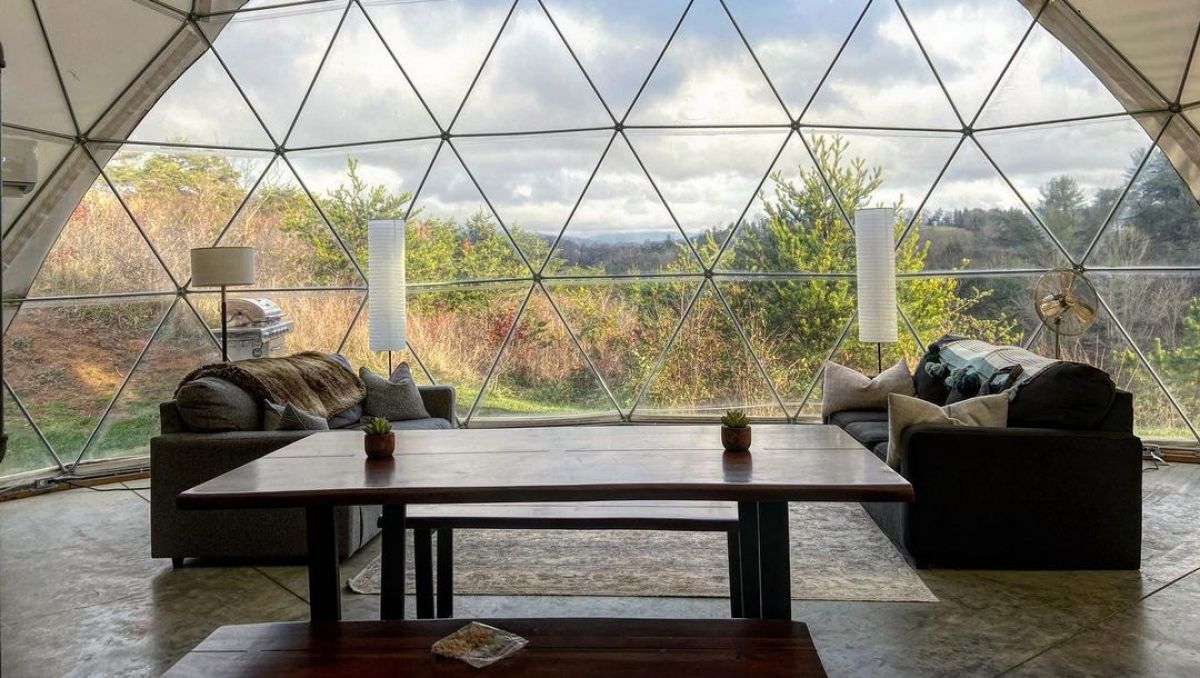 1

Asheville Glamping

Asheville

See on map
The Asheville Glamping site features about a dozen glamorous lodging options, including deluxe bell tents, a safari tent, a vintage trailer, an adults-only treehouse and awe-inspiring domes with beds positioned under skylights – perfect for a night of stargazing. All accommodations have comfy beds, refrigerators, electricity and air conditioning. Four even have private hot tubs and some of those are near babbling streams. The property sits just 1 mile from the Blue Ridge Parkway, "America's Favorite Drive," a must-do for any rejuvenation vacation with its spectacular sweeping views.
2

Bear Den Campground & Creekside Cabins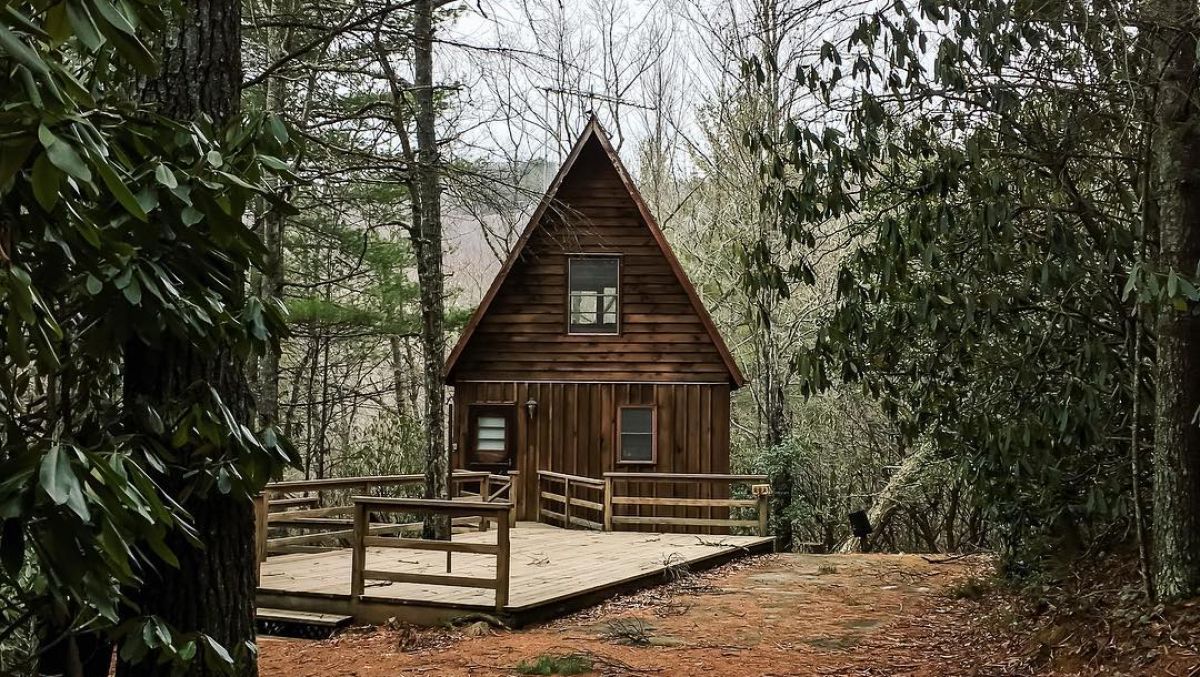 2

Bear Den Campground & Creekside Cabins

Spruce Pine

See on map
With so many outdoor adventures in Pisgah National Forest, Bear Den can be your base camp. When you camp or book a cabin here, your next adventure is right outside your door on the 13 miles of trails and a lake begging for lazy days drifting on the water or casting a fishing line. Bringing the kids? This campground is a parent's paradise with basketball, volleyball, table tennis, shuffleboard, horseshoes and playgrounds, plus an on-site store to help make planning a breeze. Since several trails start inside the campground, park your car for your entire vacation and enjoy all the amenities and activities this place – and Mother Nature – have to offer.
3

Beech Mountain
3

Beech Mountain

Beech Mountain

See on map
A ski-in, ski-out experience is by far the easiest, most stress-free way to enjoy a ski vacation to the fullest, with no time wasted lugging stuff from a faraway parking lot. Beech Mountain is a particularly fun mountain to stay on, since this resort is also home to the tallest bar on the East Coast, 5506′ Skybar. It has beers on tap brewed just steps away from the ski runs and boasts fabulous views of everyone coming off the lift and zipping down the first hill.
4

Boyd Mountain Log Cabins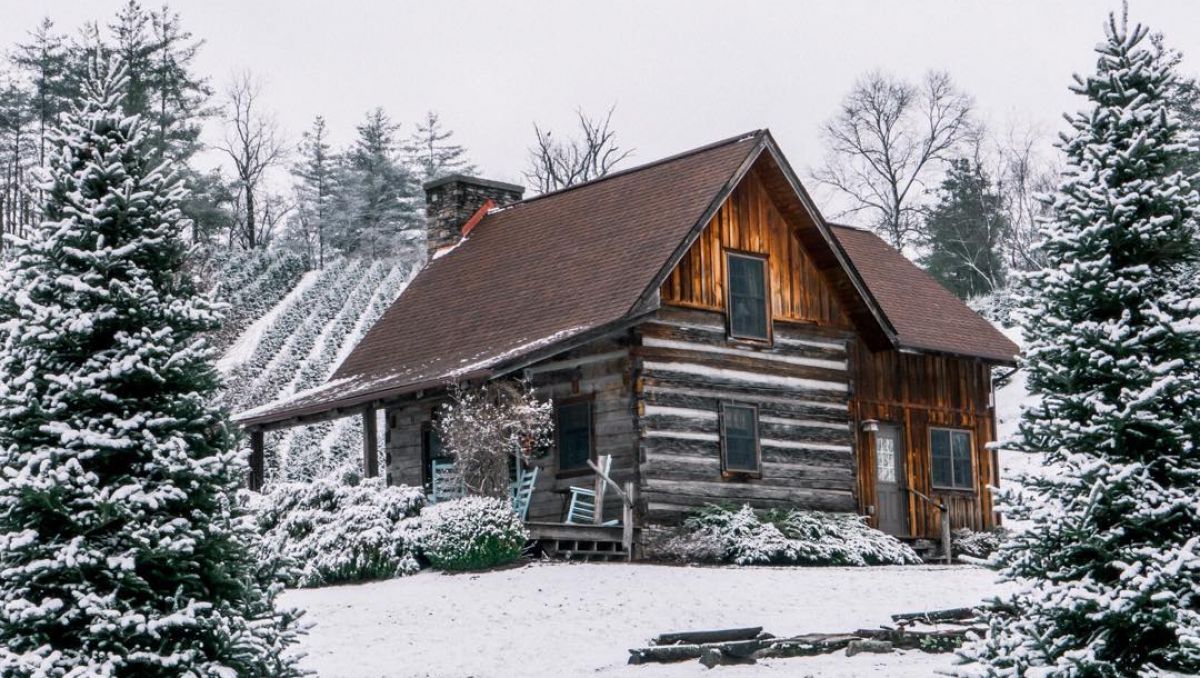 4

Boyd Mountain Log Cabins

Waynesville

See on map
Nestled in a 150-acre cove on Boyd Mountain are eight authentic hand-hewn log cabins. Though the cabins date back more than 150 years, each one has been carefully restored and furnished with modern amenities. Nature lovers can revel in tons of trails for hiking, biking and bird-watching. There's a creek that's an excellent tubing waterway, and the ponds are stocked with trout, bluegill, bass and catfish for an unforgettable fishing trip. Boyd Mountain is also near another popular ski destination, Cataloochee Ski Area – a resort with quick trails, good food and an outdoor deck perfect for watching the skiers come down the mountain.
5

Cornerstone Cabins & Lodge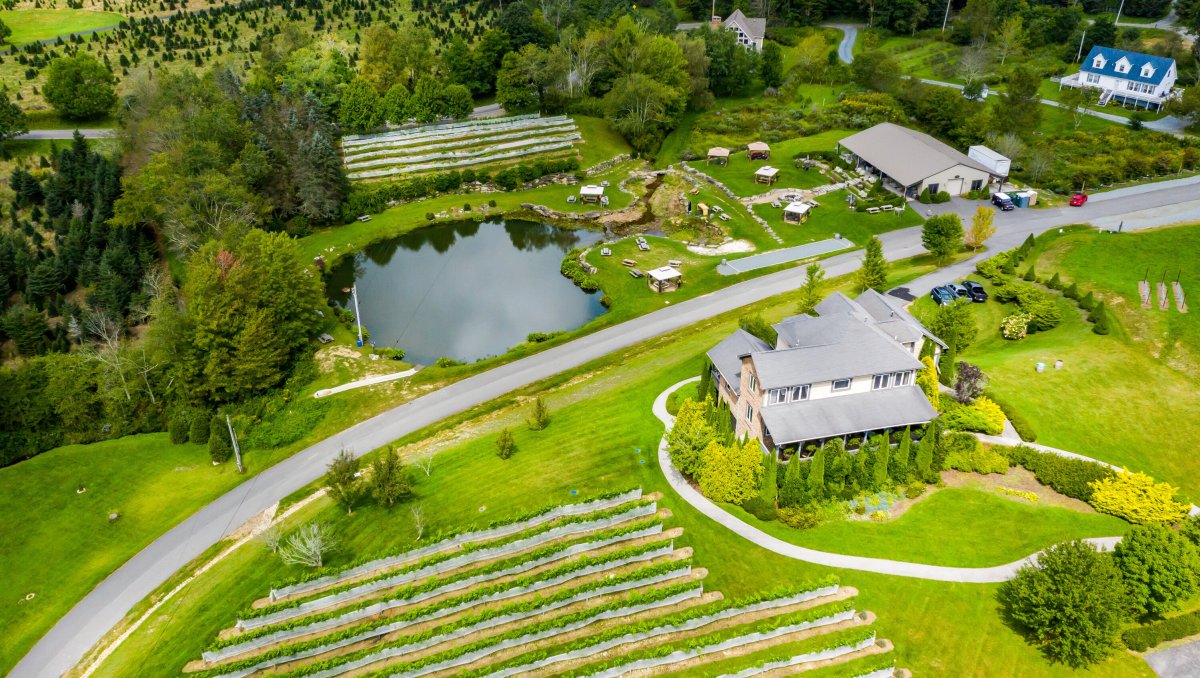 5

Cornerstone Cabins & Lodge

Banner Elk

See on map
Boone's sister city and next-door neighbor, Banner Elk, is a ski town and very close to Sugar Mountain. You'll be well taken care of at Cornerstone Cabins, home to three adorable A-frame cabins (affectionately named Love, Hope and Faith) with huge decks overlooking the property. Each cabin also offers room for six, a grill on the patio, a fully equipped kitchen and the option to bring your furry friend. Plus, the award-winning Banner Elk Winery is less than a half-mile down the road, so you can savor even more of the area (and take some home).
6

Lakes End Cabin & Yurt Rentals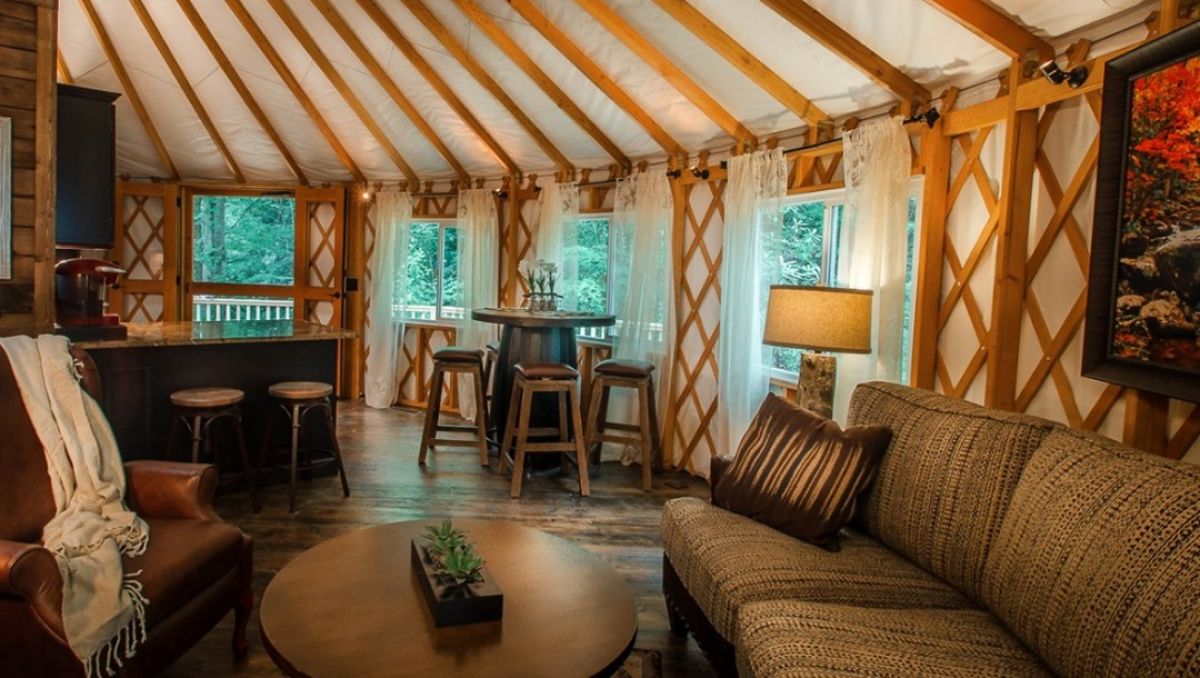 6

Lakes End Cabin & Yurt Rentals

Topton

See on map
A Great Smoky Mountains gem, Lakes End features several luxury yurts. We're talking granite countertops, stainless steel appliances, a rain head shower and private hot tubs. Fall into your soft bedding at night, and you'll feel recharged the next day for more fun on Lake Nantahala, where you can rent a boat and water sports equipment from the on-site marina. Or opt for a lakeside cabin to soak in the water views on your spacious porch. Lakes End also has a restaurant on-site featuring sandwiches, pizzas, specialty items and plenty of signature Southern fare.
7

Mountain Light Sanctuary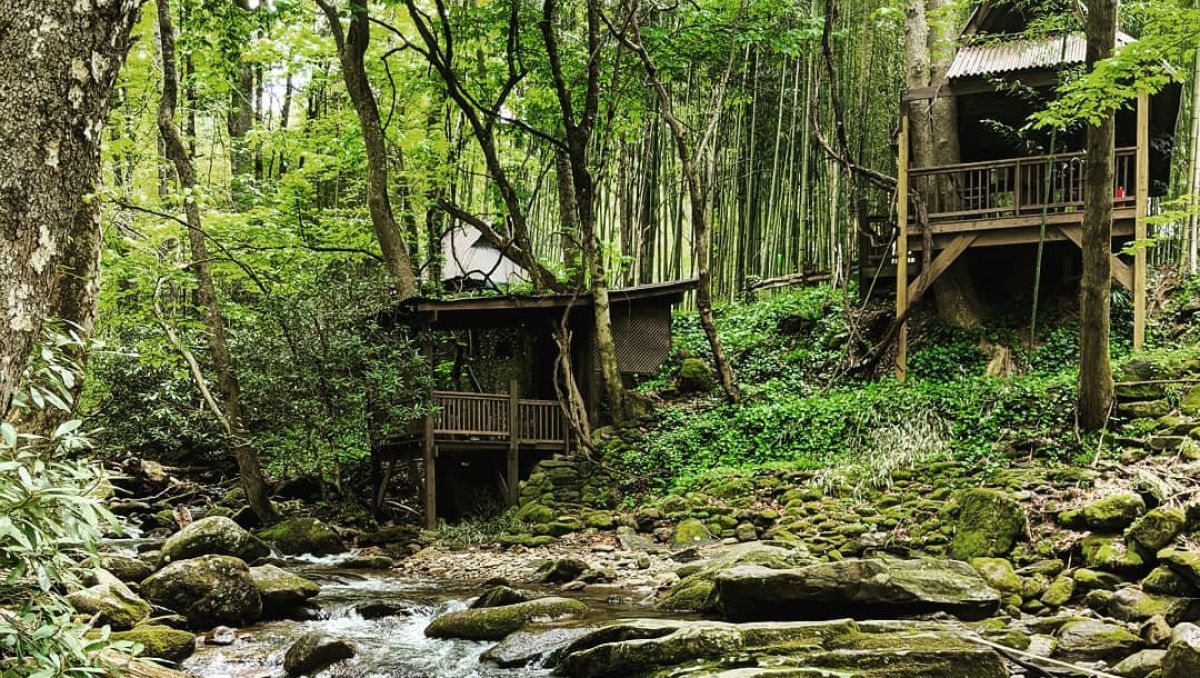 7

Mountain Light Sanctuary

Barnardsville

See on map
Built little by little over time by hand, this destination is focused on healing by immersing guests in a one-with-the-Earth setting without a schedule or organized activities. Described as a magical place filled with wonder (and maybe an elf or two), this sanctuary is often utilized for group retreats, but it also attracts those who want to enjoy a silent, working or solo getaway to completely unplug. Accommodations range from camping and private shelters to open-air bamboo huts. Guests are required to register as a member before booking a reservation – just another touch that makes visitors feel a part of something bigger.
8

Shoji Spa & Lodge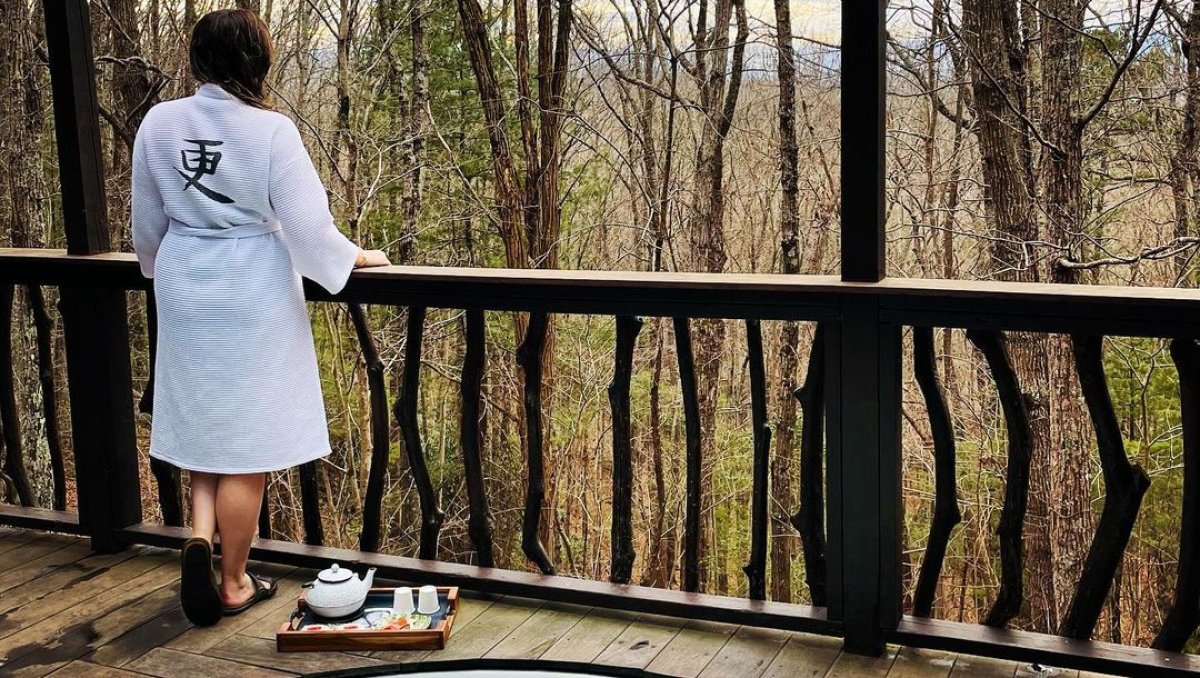 8

Shoji Spa & Lodge

Asheville

See on map
A visit to Shoji will leave you saying, "Ahhhh" as this Japanese-inspired destination spa features five private, outdoor hydrotherapy salt tub abodes carved into Pisgah National Forest. Soaks include access to the wet cedar sauna and tub-side tea service. As the Southeast's only outdoor salt tub retreat, many who visit end up extending their stay. Guests can reserve one of three rustic lodging options located "2,500 feet above stress level" and just steps from world-class massage therapy. With accommodations that include a stone fireplace, floor-to-ceiling windows and a luxurious bathroom, this mountainside retreat helps you feel rested and renewed.
9

Sky Ridge Yurts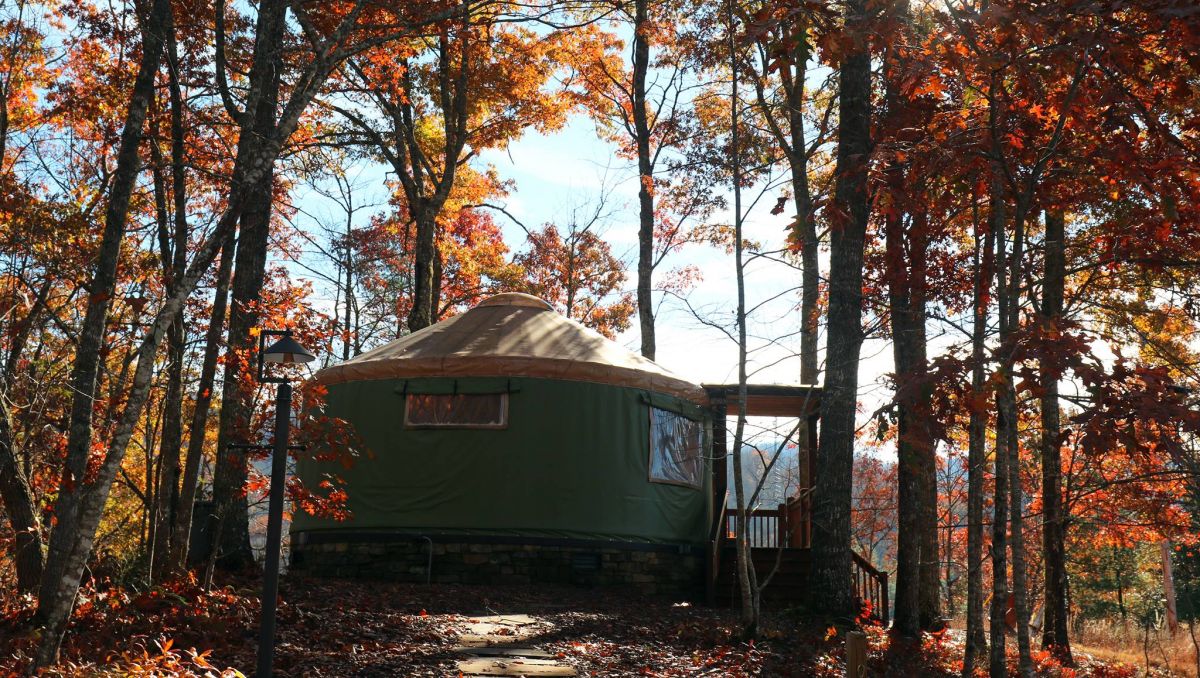 9

Sky Ridge Yurts

Bryson City

See on map
Another souped-up camping experience awaits in Bryson City, just steps away from America's most popular national park, Great Smoky Mountains National Park. These top-of-the-line yurts have lofts, full kitchens, large decks, TVs, firepits and full bathrooms – truly taking glamping to the next level. For when you do venture out, there are quite a few tubing, ziplining and whitewater rafting options available. Or take an open-air Jeep tour if you're looking to explore with a local guide. Plus, the tallest dam on the East Coast, Fontana Dam, is nearby, where you can rent kayaks or stand-up paddleboards from Bryson City Outdoors.
10

The Swag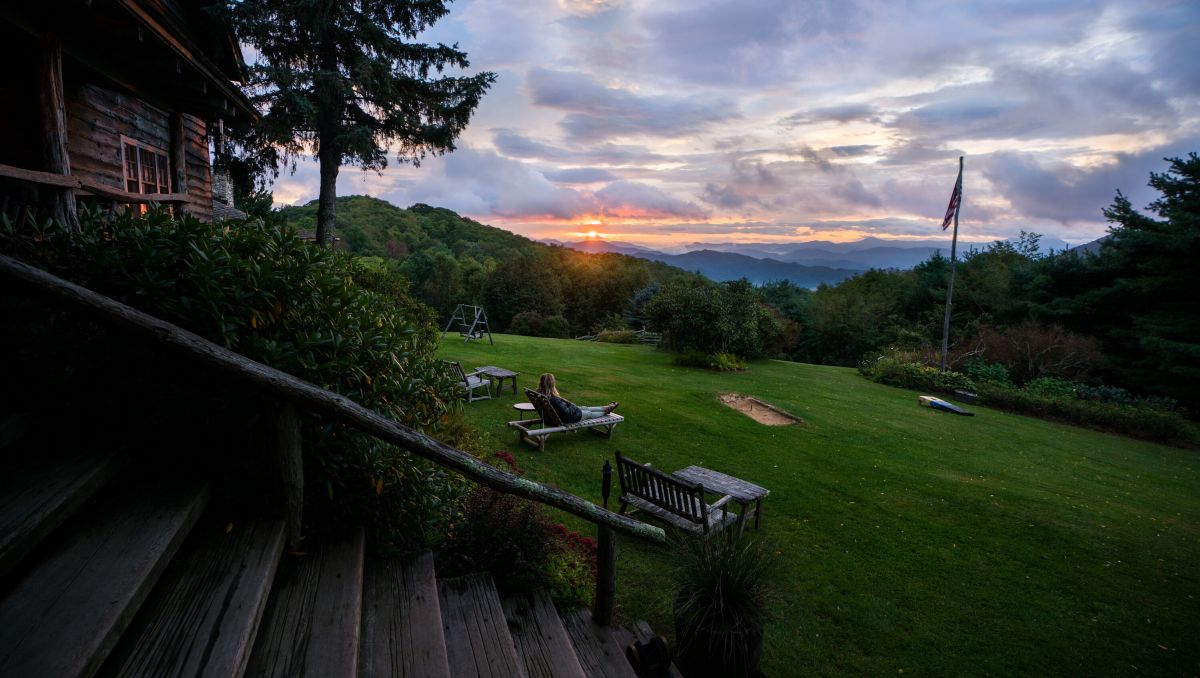 10

The Swag

Waynesville

See on map
Seeking a luxe experience to soothe your soul? Pick 2019's No. 1 ranked "Top Resort in the South" according to Condé Nast readers. The handsomely appointed cabins have fireplaces, king-size beds and soaking tubs. Some even have a sauna, plus the overnight rates include all meals, appetizers, cookies and a daily high tea. For even more space, splurge on the two-story log cabin – complete with a game room. Stunning 5,000-foot views can be seen throughout the property's 250 acres that border Great Smoky Mountains National Park. Guided hikes, secluded hideaways, double hammocks, badminton and a treehouse give plenty of ways to unwind and reconnect with nature – and each other.
Connect with nature like never before by following the 7 Principles of Leave No Trace, which help ensure you have the knowledge to protect North Carolina's natural beauty so others can experience it in the same way.
Updated September 7, 2022