Play, Sip, Relax: Find It All and More at the Timeless Pinehurst Resort
When soda fountain magnate and future philanthropist James Walker Tufts bought his 5,800 acres of Sandhills in 1895, they were dusty and barren. But it didn't take long for them to become Pinehurst, the Cradle of American Golf. The first nine holes were created within three years. The inaugural North & South Amateur Championship teed off in 1901. And beloved course architect Donald Ross opened No. 2 in 1907.
Since then, Pinehurst Resort and golf have been inseparable. No. 2, for example, has hosted more single golf championships than any U.S. course, including the 2014 men's and women's U.S. Opens in consecutive weeks. And the men's tournament returns in 2024, Pinehurst's 11th USGA championship.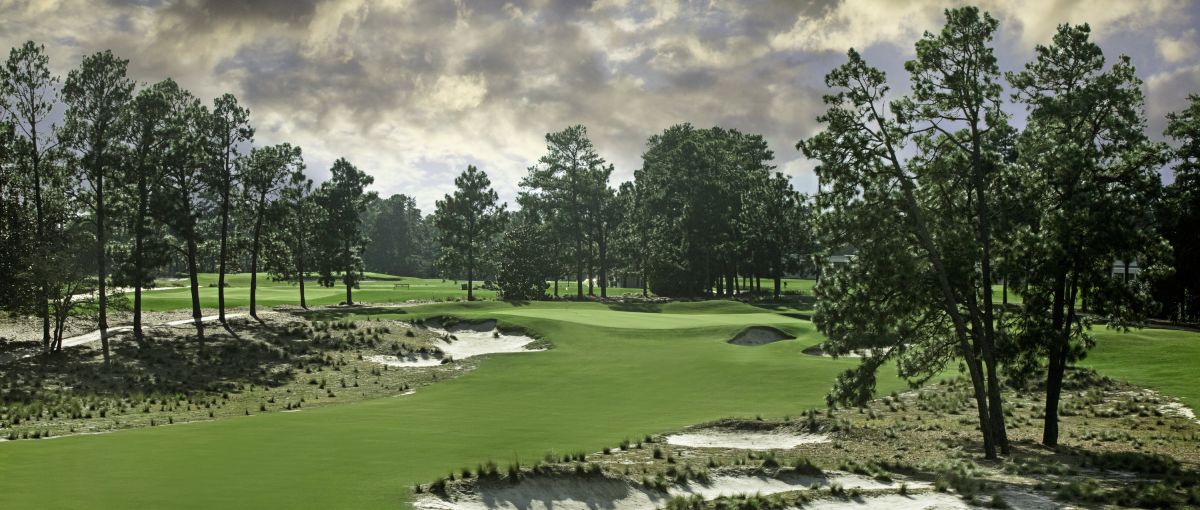 No. 2's draw remains its challenging play. Ross called it "the fairest test of championship golf I have ever designed." It returned to that status in 2010, when renovations began to blend bunkers back into the landscape and replant natural grasses. Now you see the course as Ross did. But unlike then, today's view of Pinehurst includes much more.
The North & South Bar, which opened in early 2020, offers more than 70 styles of rye, whisky, scotch and bourbon, including a Pinehurst-specific blend from Woodford Reserve. Like the caddies who help you around the resort's nine 18-hole courses, the bar's in-house bourbon expert can help you navigate the menu. It includes unique cocktails such as Bourbon and Bubbles, which features vanilla-infused fig syrup and champagne. With drink in hand, admire the circa 1922 illustration of Ross' first four Pinehurst courses that graces its ceiling in the lounge. Or find the patio, where fires crackle.
A nearly complete interior renovation brought the North & South Bar to The Manor, along with updates to its 43 guest rooms. Two hospitality suites also were added. The Library and Club rooms, outfitted with comfortable leather furnishings, provide space for private groups of up to 12 or 20, respectively, to celebrate or gather after a round.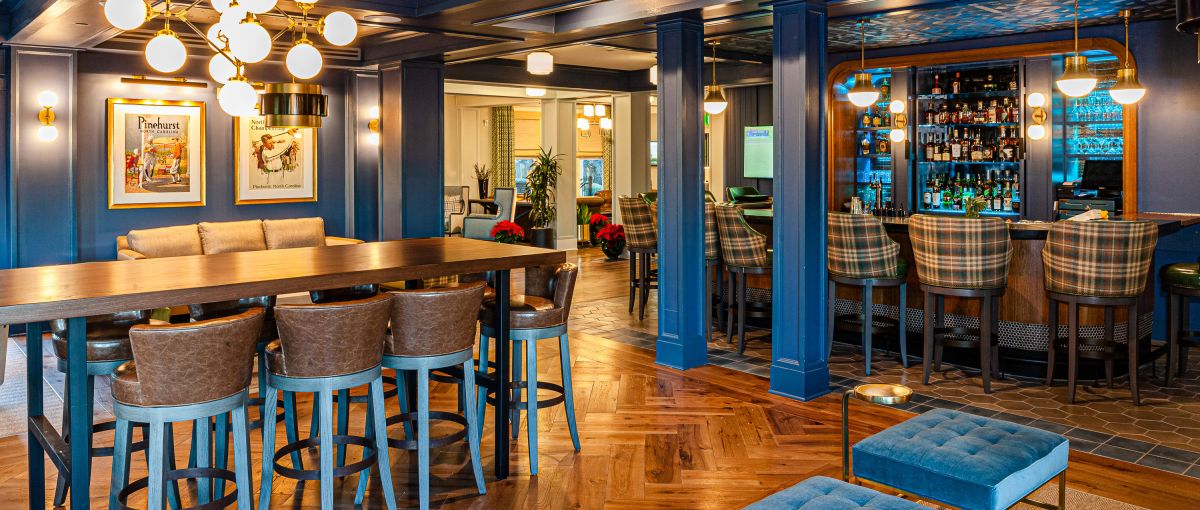 Besides The Manor's Kellastone exterior – a sturdy, stone-studded stucco that was invented around the time of the hotel's 1923 debut – its relaxed charm was left untouched. You feel it as soon as you're welcomed in the bright, open lobby.
You'll find cozy accommodations at Pinehurst's original hotel, the AAA four-diamond Holly Inn. Its hospitable staff will show you to one of 82 rooms and suites, each comfortable with classic appointments such as Tiffany lamps. But it truly shines when you're ready for a meal.
At the Inn, the four-star 1895 Grille prepares its Southern-inspired dinner dishes, from the traditional Carolina She-Crab Soup to the house-spun ice creams, with locally sourced ingredients. In addition to lunch, you'll find a more relaxed atmosphere at The Tavern, whose menus are deep with salads, sandwiches and burgers. The antique bar, which was shipped from Ross' native Scotland, is perfect for a romantic evening drink or a quick bite before your tee time.
The Holly Inn and its restaurants are at Pinehurst's center, where the walkable streets in a garden-like setting are a nod to its founder's New England roots. Here you can find Pinehurst Brewing Company, inside the village's original power plant. Much of its industrial interior was preserved during the transformation to a 10-barrel microbrewery. Valves and gauges, for example, serve as decorations and light fixtures, and its pipes are now table legs.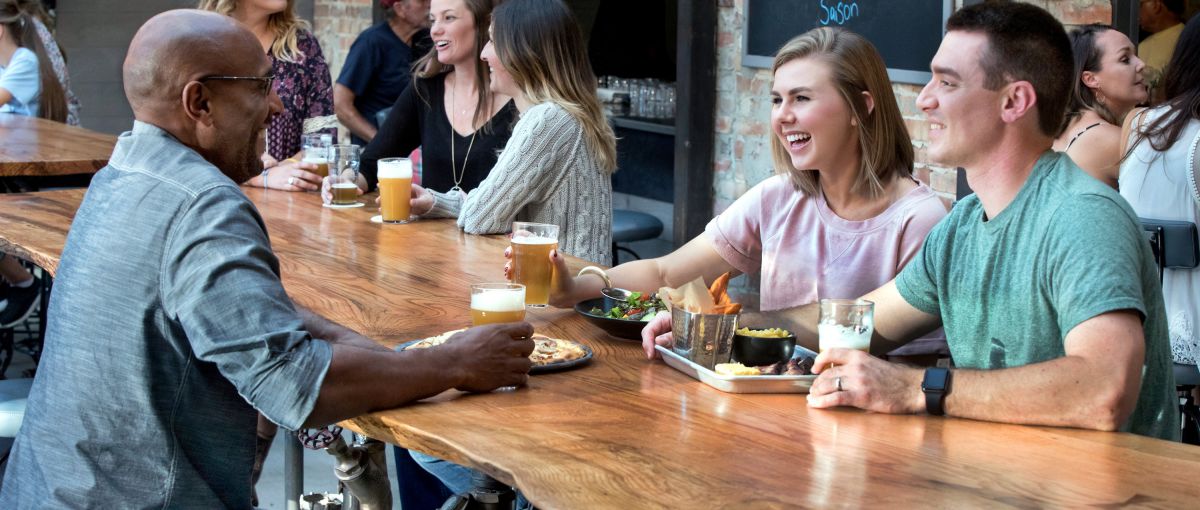 Head brewer Eric Mitchell uses skills praised at the World Beer Cup to create a range of beers, from the New England-style IPA Rhythmic Samba that's flavored with tropical fruits, to the nutty and toffee-flavored Oscar Brown ale. You'll find plenty to like if you're a wine drinker, and its spirits are made by North Carolina distilleries.
The brewery's food is equally interesting. Loaded pizzas and thick sandwiches will satisfy most hungers, if the sweet smells from the onsite smokehouse don't intervene. Think tender pork, juicy brisket, and tasty dishes such as smoked mac and cheese and chicken wings slathered in a sauce that starts with North Carolina-made Cheerwine soda. Enjoy your meal inside and listen to live music on weekends or catch a game on one of the many TVs, or sit outside in the pet-friendly beer garden.
Reduce your stress load at The Spa at Pinehurst by sliding into a soft robe and slippers and enjoying a complimentary smoothie poolside, where you also can order lunch. What's next is up to you. There are massages for men and women, body treatments, facials and nail care. Or retreat to the sauna, steam room, whirlpool or one of the tranquility areas.
Even what's old is new again at Pinehurst. The Cradle, a 789-yard par-3 short course designed by Gil Hanse, opened in 2017 on the spot where the resort's first nine holes were placed. It's also home to The Pine Cone, a beverage station that resembles a classic 1950s wood-paneled camping trailer. Draft beer, cocktails and small bites are served. Even if you're not playing, grab a drink and settle into one of its Adirondack-style chairs to watch golfers attempt the third hole's "punchbowl" green.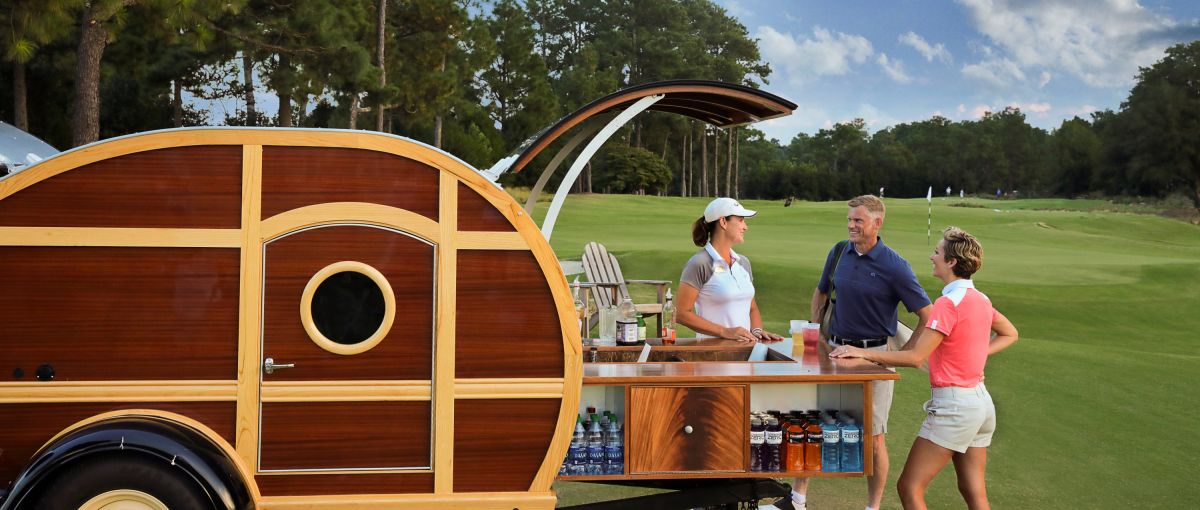 Hanse also worked on No. 4, which opened in 2018 with GOLF magazine naming it the "Best New Course You Can Play." He used Ross' original routing and landscaping, preserving the challenges he was passionate about along with equally spectacular views, many reminiscent of what Tufts saw when first stepping from his train.
It's all here. World-renowned golf. A peaceful spa. Elegant and cozy accommodations. Mouth-watering, inventive fare and carefully crafted cocktails and brews. Plan your trip today and explore Pinehurst Resort, where you can build your own memories alongside the timeless history of this all-encompassing destination.
This article was produced in partnership with Pinehurst Resort.
Updated August 22, 2021