The North Carolina Donald Ross Golf Experience
In North Carolina, the name "Donald Ross" and golf are synonymous. This golf legend has left a lasting legacy that has shaped our state's golf history and courses. Make your next golf trip to North Carolina to experience the greens yourself.
Championship Play
Pinehurst Resort made history by hosting the 2014 U.S. Open and U.S. Women's Open during back-to-back weeks on the Ross-designed Pinehurst No. 2.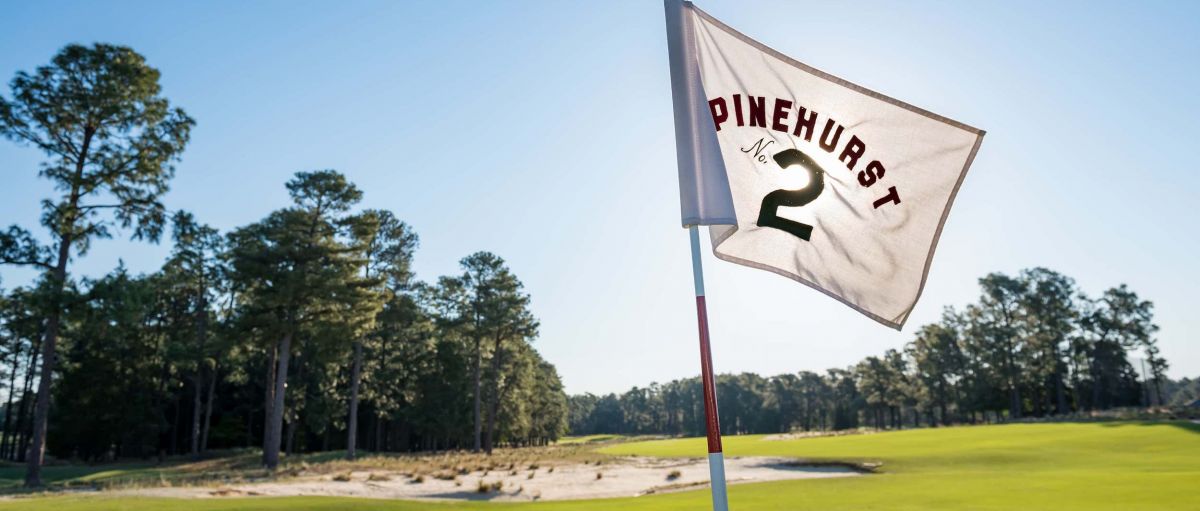 While pros and presidents have helped build its reputation, anyone can play No. 2 as a resort guest. If you play here, look for the architect's former 4,500-square-foot home that sits off the third fairway. The resort's No. 1 and No. 3 courses also carry Ross' signature. And to add to tradition, Pinehurst opened the Deuce in the Resort Clubhouse in 2016. This stylish restaurant and bar, adorned with vintage photographs and memorabilia, offers the best view of No. 2's 18th hole.
To learn about the life and history of Donald Ross, head to the Village of Pinehurst. Here, the Tufts Archives houses original field sketches, layouts and blueprints of Ross courses, as well as personal letters and correspondence. Located in the village, the Pine Crest Inn was purchased by Ross in 1921 and owned until his death in 1948. It's full of golf history and still welcomes golfers today.
Ross Courses Across North Carolina
Ross' presence in North Carolina extends beyond America's premier golf resort. According to research by the Donald Ross Society, he shaped more than 50 courses between Asheville and Wilmington. About 40 of them remain in play with their attribution intact, and the public has access to about half. Here's a selection of courses that join Pinehurst in honoring Ross' legacy.
1

The Omni Grove Park Inn Golf Course
1

The Omni Grove Park Inn Golf Course

Asheville

See on map
The Omni Grove Park Inn Golf Course is Pinehurst's only rival in the name-dropping department – for one, President Obama played 18 holes here during a 2010 weekend getaway. The course, a regular PGA Tour stop from 1933 through 1951, is a thing of phenomenal beauty with its mountain vistas, tree-lined fairways, meandering stream and the stunning granite inn. Another Ross course you can play while in Asheville: Asheville Golf Course.
2

Pine Needles Lodge & Golf Club
2

Pine Needles Lodge & Golf Club

Southern Pines

See on map
Pinehurst's neighbor in North Carolina's greens-rich Sandhills rises high on the national landscape as the chosen course for four U.S. Women's Opens. Pine Needles adds even more stature because of the resort's founder, the late Peggy Kirk Bell, a World Golf Hall of Famer. At its sister resort, Mid Pines, the Ross-designed course has undergone a tee-to-green restoration that was completed in August 2013. And nearby Southern Pines Golf Club stands as a classic Ross layout.
3

Linville Golf Club

Linville

See on map
North Carolina's original golf course was built here, but its 14 holes were abandoned in favor of Ross' handiwork. Having never undergone a major redesign, the Linville Golf Club remains authentically Donald Ross.
4

Wilmington Municipal Golf Course
4

Wilmington Municipal Golf Course

Wilmington

See on map
Ross designed a links-style course for Wilmington, a port city on the Cape Fear River. In 2014, "the Muni" underwent the largest renovation project in its history, which included doubling the size of the greens and restoring the bunkers to their original size and shape.
5

Raleigh Country Club

Raleigh

See on map
The last course designed by Ross opened for play in 1949, a year after his death, and its consummate restoration in 2005 was faithful to his vision. Raleigh Country Club is private, but travelers can get to the greens with a McConnell Golf Trail package. Other options on the trail include Sedgefield Country Club and its Ross-designed course, home of the Wyndham Championship.
Other Donald Ross courses the public can play:
Updated August 23, 2021