Turn Your Summer Pastime into a First Time in North Carolina
Summertime favorites deserve their notoriety, such as diving into a swimming pool when the weather's hot or going on a road trip just for the fun of it. But in North Carolina, you can take these experiences up a notch with unique twists on traditional summer fun.
Kids begging to go to a water park? We've got a natural waterslide in "The Land of Waterfalls." Want to get the whole family excited to go camping? Reserve a spot at one of our paddle-to-your-destination campsites on the Roanoke River. Our state has plenty to keep the daredevils occupied too, like indoor skydiving and tandem zip lining.
Feel the Rush of Indoor Skydiving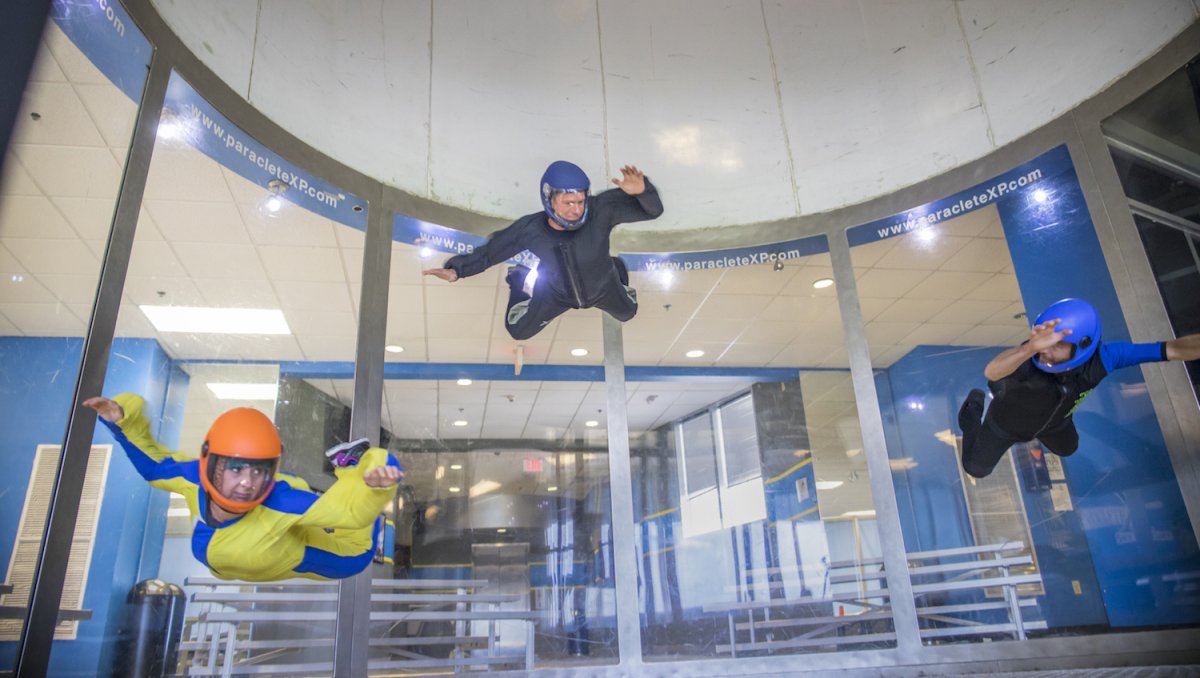 Feel the Rush of Indoor Skydiving
Raeford (near Fayetteville)
How would you like to fly through the air without parachuting out of a plane? That's the experience that awaits at Paraclete XP Indoor Skydiving, about 25 minutes outside of Fayetteville. Powered by the largest vertical wind tunnel in the country, it creates an atmosphere of free flying inside a large glass silo. The adventure is literally suitable for all ages, from ages 3 and up, and the intensity is tailored for the flyer. You'll get the full effect of skydiving, complete with training on body flight techniques, before gearing up in a jumpsuit with helmet and goggles.
The Ultimate Waterslide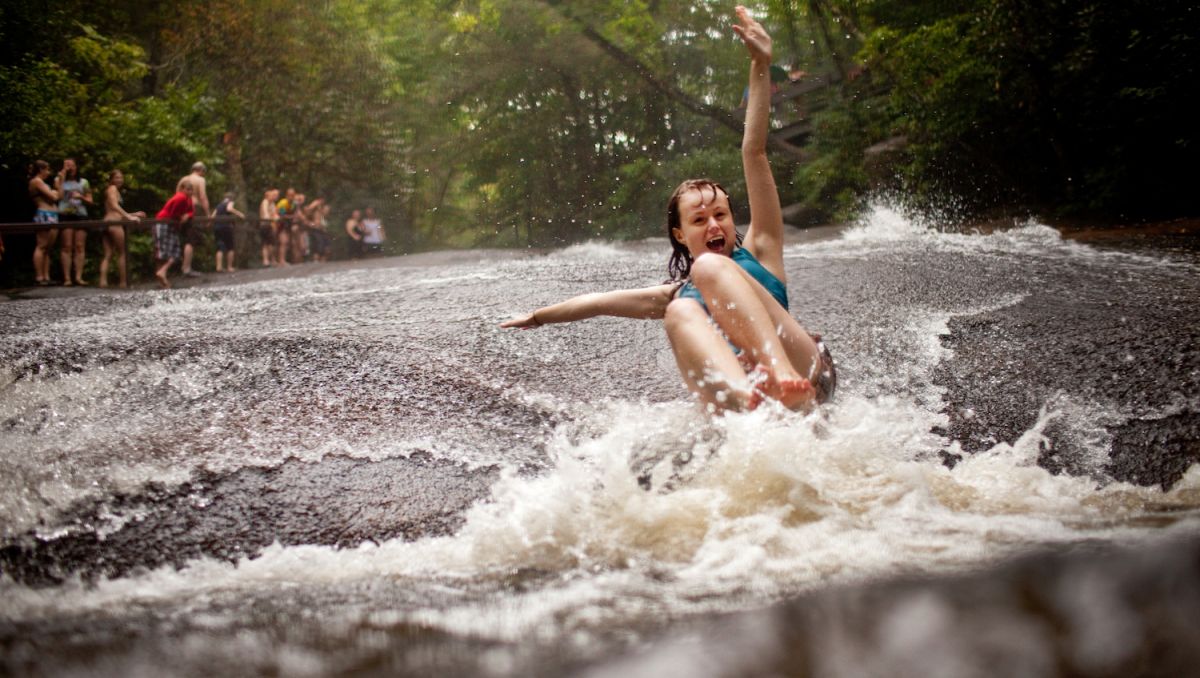 The Ultimate Waterslide
Brevard
Sure, man-made waterslides are fun, but the ones Mother Nature comes up with are truly something special. Located in Pisgah National Forest in the Brevard area, a.k.a. "The Land of Waterfalls," Sliding Rock is a 60-foot natural cascade of water that ends in an 8-foot deep pool. It's an adrenaline rush for all ages, and lifeguards are on duty during the summer season. If you want to turn up the thrill level a bit, check out Turtleback Falls for a bigger drop and stronger current, located near Lake Toxaway.
Paddle to Your Campsite
Paddle to Your Campsite
Halifax, Jamesville, Plymouth, Williamston
If you're ready for an anything-but-typical camping trip, head to the Roanoke River. Your adventure starts with paddling – usually by kayak or canoe – your goods and gear to one of Roanoke River Partners' 15 or so platforms along 140 miles of waterway. These platforms put you in the center of the East Coast's largest intact bottomland hardwood ecosystem, meaning you'll see tree roots, more than 200 bird species and plenty of other wildlife in this ancient forest. Beginner paddlers should hire a guide or consider sticking to the creek routes, while more advanced paddlers can opt to paddle upstream or reserve one of the camping platforms farther downstream.
On the Road to Nowhere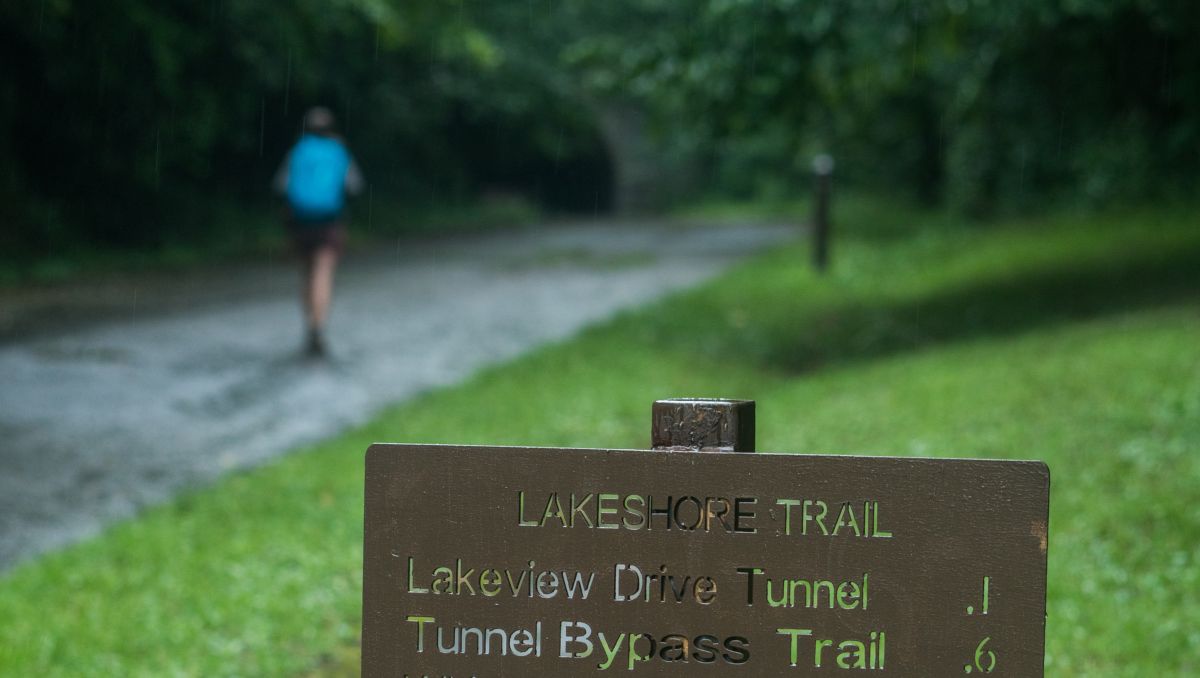 On the Road to Nowhere
Bryson City
Bryson City makes for a great summer road trip because it sits at the mouth of Great Smoky Mountains National Park and is home to Great Smoky Mountains Railroad. When friends ask where you're headed, just tell them "nowhere." The Road to Nowhere is a 6-mile drive that should've stretched 30 miles around Fontana Lake but infamously stops at a tunnel to nowhere. And while the tunnel is a popular photo opp, there are also scenic hikes along the 33 miles of nearby trails, many of which are creekside or lakeside.
Hang Out on the Zip Lines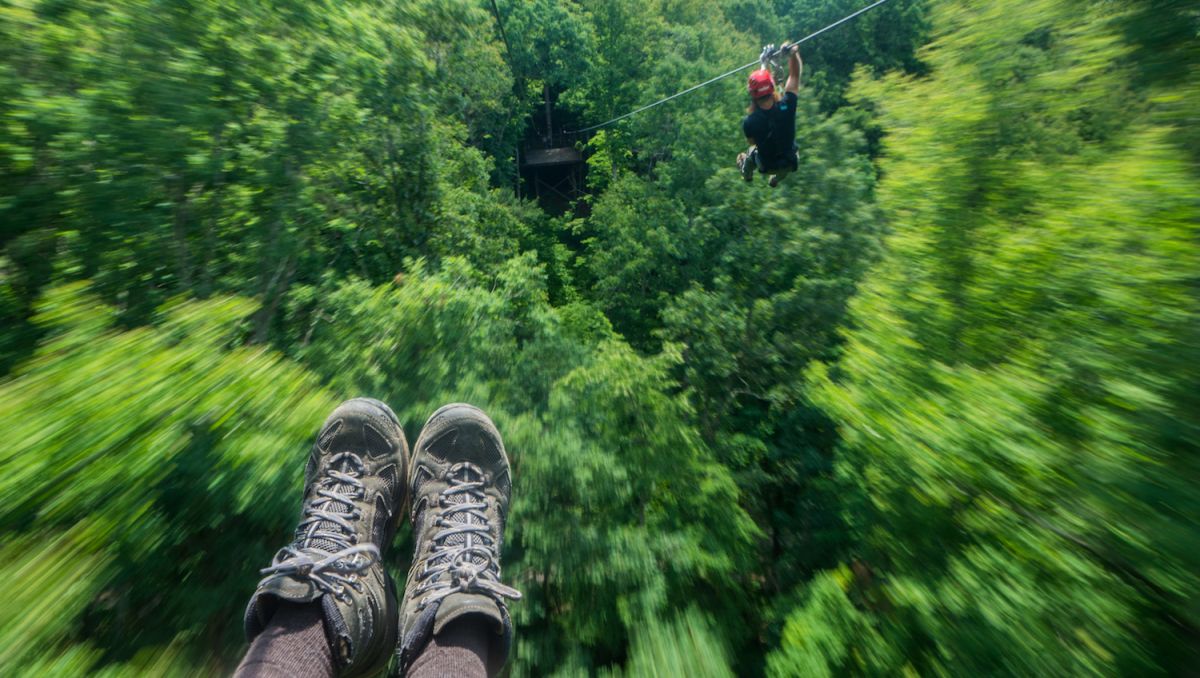 Hang Out on the Zip Lines
Barnardsville (near Asheville)
North Carolina has a rich zip lining history dating back to 1998 when America's first zip line canopy company opened here. A lot has changed since that first single-person zip line began, as the state is now home to about two dozen zip line and aerial adventure parks. Just outside of Asheville, you and a friend can swing through the trees together at Navitat on its Mountaintop Tour, where side-by-side zip lines lead you on a three-hour adventure, sometimes reaching high speeds and always offering incredible views. Navitat also offers guided RTV excursions, taking your group on a tour through the mountains on a rugged-terrain vehicle.
Wine Tasting with Furry Friends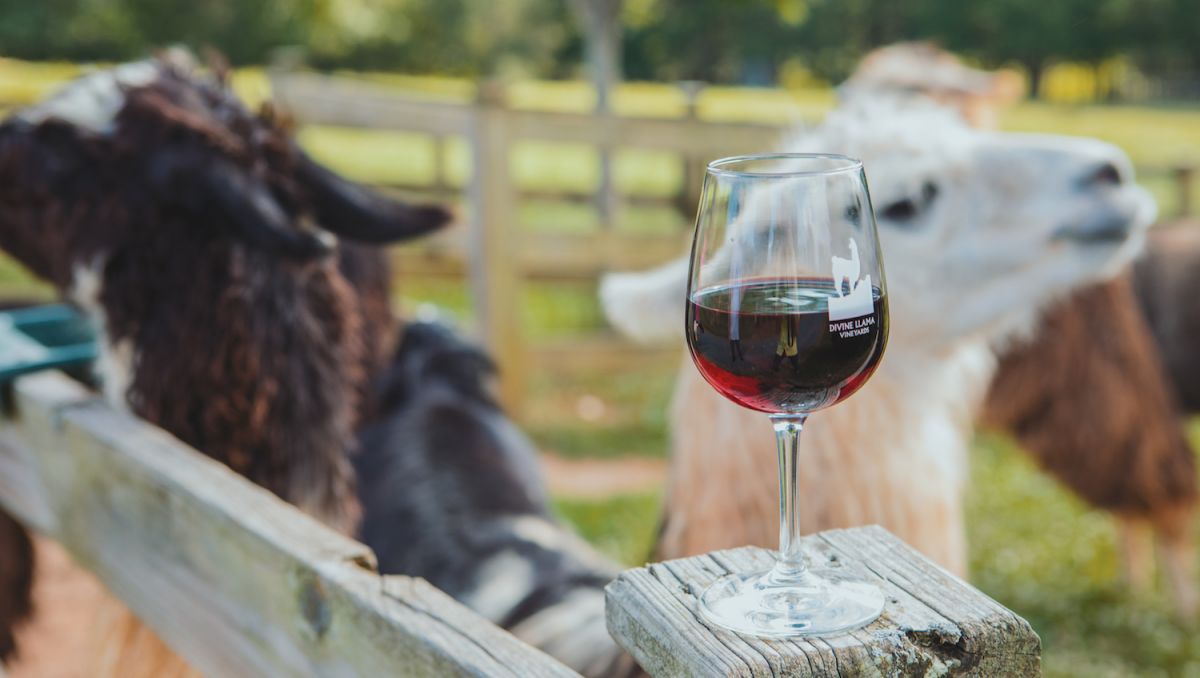 Wine Tasting with Furry Friends
East Bend (near Winston-Salem)
With 200 wineries spanning the state, booking a wine tasting and vineyard tour should be an inevitable part of your trip. If you're coming to the Winston-Salem area, don't miss the chance to visit Divine Llama Vineyards. The tasting room offers a selection of more than 10 wines – including cabernet franc, merlot, chardonel and traminette – but the outdoor attractions steal the show. Llamas and miniature horses live on the property's 91 acres, and you're invited to pet them with one hand while holding your wine glass in the other.
Dive into the Atlantic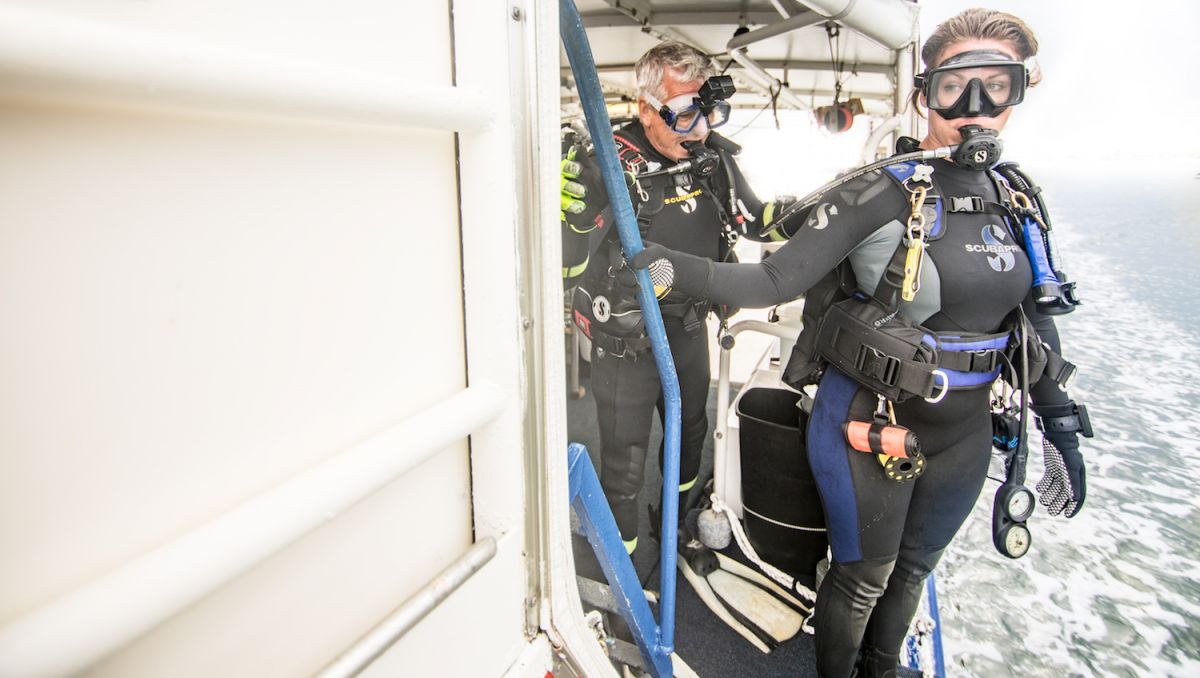 Dive into the Atlantic
Morehead City
The summer heat will have you wanting to dive in a pool every chance you get, but it's not often you get the opportunity to scuba dive. Founded by a pioneer of North Carolina wreck diving, Olympus Dive Center operates on the Crystal Coast, taking guests on dives exploring the Graveyard of the Atlantic. It's named as such for the more than 2,000 shipwrecks that dot the coastline off of Morehead City dating back to 1526. This smorgasbord of boat remains has earned the area notoriety as one of the top-5 diving destinations in the world. And even if you've never gone scuba diving before, Olympus is a five-star training facility.
As you're planning these fun outings, we want you to also plan to be safe. Check out some helpful tips on how to stay safe hiking, camping and exploring waterfalls, and for daily information on beach conditions and beach safety, check with the destination you plan to visit.
Updated September 22, 2022