Scenic Ideas to Savor Winter, North Carolina's Secret Season
Dodge the crowds and revel in the spaces that come alive as the mercury dips. Slice a new path through untouched powder or a rambling river, and remember your binoculars for wildlife spotting. No matter where the season takes you, prepare to be awestruck by the views.
Outdoor Adventure
Gorgeous peaks and parks promise to raise your heart rate – and your spirits – at these mountain marvels.
On a Blue Ridge Mountain trail, snow crunches. Tree branches creak as falling flakes gradually build a heavy, white blanket. A creek gurgles as it flows over rocks and laps at icicles along its bank. These are pretty much the only sounds you'll hear as you take a 1-mile snowshoe trek across Sugar Mountain Resort. At 5,300 feet in elevation, the mountain averages 78 inches of natural snow each winter. If you prefer to glide instead of step, ride one of eight chairlifts to 20 ski slopes, ranging from easy to double-black diamond.
At nearby Appalachian Ski Mtn. in Blowing Rock, skiing and snowboarding rule, but ice-skating – particularly under a starry night sky – is exhilarating in its own way. The state's only Zamboni-maintained outdoor rink offers ski-slope views on one side and long-range mountain vistas on the other. Hop on a tube and zoom down the tubing hill at Highlands Outpost in Scaly Mountain. A "magic carpet" lift takes you back to the top for endless, effortless fun. North Carolina's largest mountain coaster, the Scaly Mountain Screamer, is open here year-round.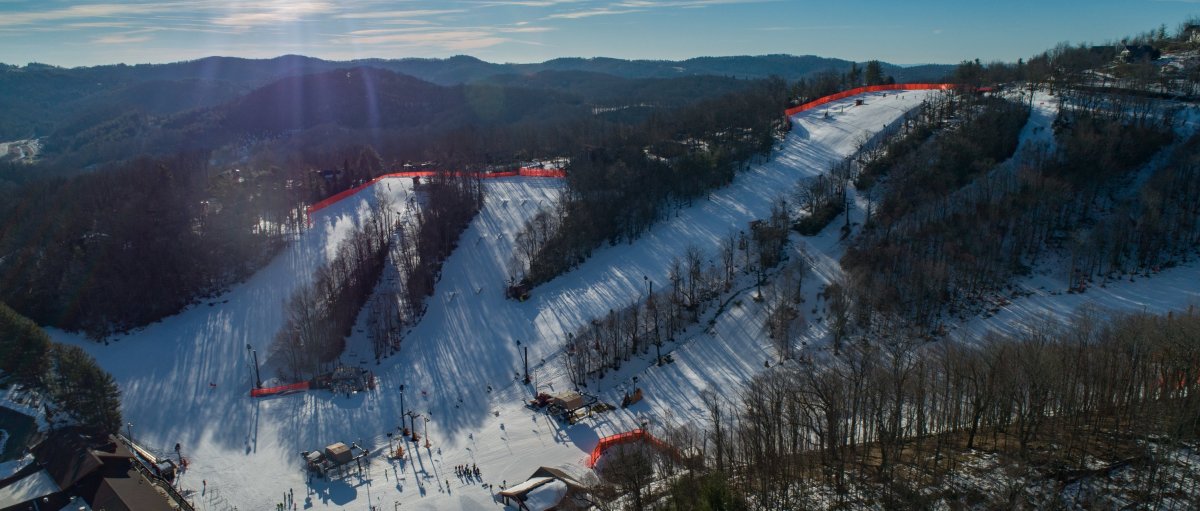 A few hours south in Cashiers, you might be lucky enough to catch the Shadow of the Bear. At around 5:30 p.m. from mid-February through early March, a shadow resembling a bear begins to grow as the sun sets behind Whiteside Mountain. Bundle up and head to Rhodes Big View Overlook for this bucket-list-worthy natural phenomenon, which is only visible for about 30 minutes.
On the Water
Smell the salt, feel the breeze and taste the treasures pulled from below the surface.
In eastern North Carolina, water transitions from rivers and creeks to the ocean's salty current. In between, salinity varies with the tides and weather, creating delicate estuaries that teem with wildlife.
Near Cedar Point, launch a kayak or canoe at Cedar Point Recreation Area in the Croatan National Forest. Paddle through salt-marsh canals and retire to the 40-site campground.
Catch a private ferry from Harkers Island or Beaufort to Cape Lookout National Seashore, where 56 miles of beaches beckon shell seekers. Winter brings stronger waves and larger shells. Look for the plaid Scotch bonnet – North Carolina's state shell – but follow Outdoor NC Leave No Trace principles and leave it where you found it.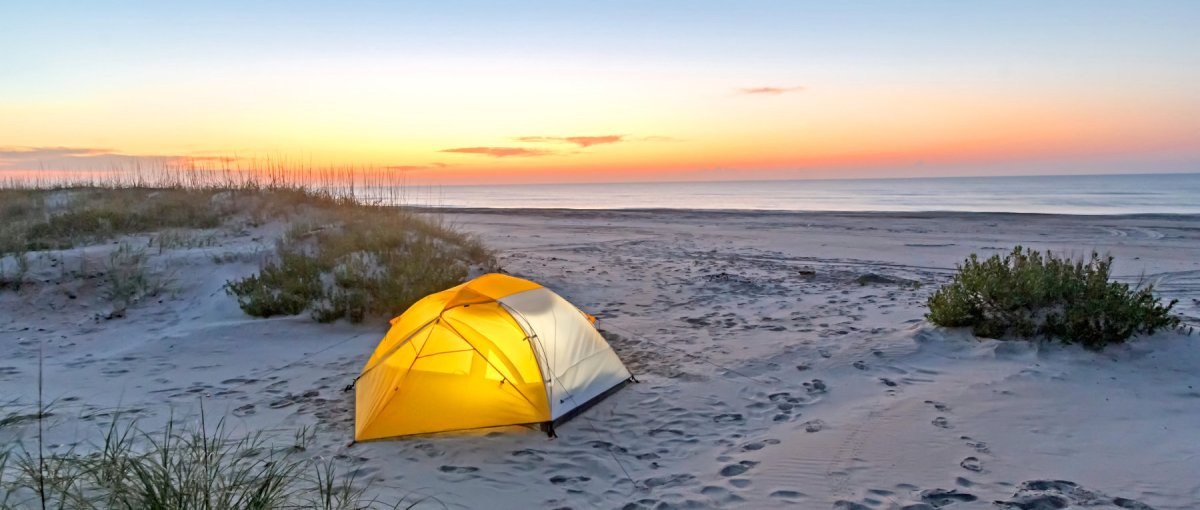 Board a fishing charter with Capt. Gary Dubiel and his year-round Spec Fever Guide Service. Neuse River trips run throughout the winter. Depart from New Bern or Oriental and return with speckled trout, stripers, crappie and redfish.
If you prefer fresh seafood on a plate instead of a line, dine at Edenton Bay Oyster Bar. Distinctly Southern presentations include fried oysters atop collard greens and bacon, or baked oysters with pimento cheese and country ham. Afterward, take a walk along the Edenton waterfront. During the day, you can climb to the cupola of the 1886 Roanoke River Lighthouse for views of Edenton Bay. The popular attraction is one of the last surviving screwpile lighthouses of its kind in the United States.
Soaring Views
Migrating waterfowl spend the winter at refuges and parks, and they embark on return flights as the wildflowers bloom. Before heading out, download our Guide to Birding in NC, which includes birding destinations, events, tips and much more.
North Carolina's midpoint location along the Atlantic Flyway draws thousands of migrating birds each winter. Many spend November through February across the Piedmont and Coastal Plain. More than 10,000 ducks and geese winter at Pee Dee National Wildlife Refuge in Wadesboro. Traverse wetlands via boardwalks, piers and a covered bridge to glimpse a great blue heron or swamp sparrow, or see a ring-necked duck skimming the water.
The Neuse River took millions of years to carve 90-foot cliffs along its bank at Cliffs of the Neuse State Park near Seven Springs. Hiking and biking trails lead to overlooks, but an advanced 8-mile paddle trail provides the best view. Spot bald eagles, river otters and Spanish moss.
Around Thanksgiving, tundra swans arrive at Mattamuskeet National Wildlife Refuge in Swan Quarter. Observe them from numerous observation platforms. Follow the Kuralt Trail through Roanoke River National Wildlife Refuge near Williamston and listen for the barred owl's distinctive "Who cooks for you?" The sound of insects buzzing around maple tree blossoms signals spring.
Look for more wonders of land and sky – especially butterflies – as you hike or bike along 20-plus miles of trails at Dismal Swamp State Park in South Mills. This forested wetland once served as a hiding place along the Underground Railroad.
Find more insider tips hiding in plain sight at The Official 2023 North Carolina Travel Guide.
Updated October 12, 2022