7 Outdoor Adventures in Central North Carolina
Adventure for the indecisive: That could be the motto for the area around the Dan River in north-central North Carolina. Hike or go horseback riding? Ride a bike through the rolling countryside or rock climb? Maybe take a nice flatwater paddle, or step it up a notch on some challenging whitewater? Go tubing? Zip lining?
Give yourself a week when you come to this region and you won't have to worry about making hard choices – you can do it all. Best of all, it's a big adventure vacation that can be done on a small budget: Several campgrounds in the area make great base camps, including the shaded, mountaintop campground at Hanging Rock State Park, which has the added plus of access to the park's 12-acre mountain lake with bathhouse and beach. Its cool waters are just the thing to revive your adventurous spirit.
Each day of this seven-day trip idea can be a stand-alone day trip, or the days can be combined to create a multiday outdoor adventure.
Paddle the Dan River
The perfect river paddle combines idyllic scenery with a dash of friskiness. That sums up the 6.2-mile Preserve Park Run trip offered by the Dan River Company in Danbury. About 5 miles of the trip on the Dan River is through the 1,000-acre Hammer-Stern Wilderness Preserve, where rock outcrops give the impression of paddling in higher climes 50 miles to the west. When you've paddled through the preserve, you won't even notice because you'll be floating the equally pristine northern boundary of Hanging Rock State Park, which also offers further protection from development.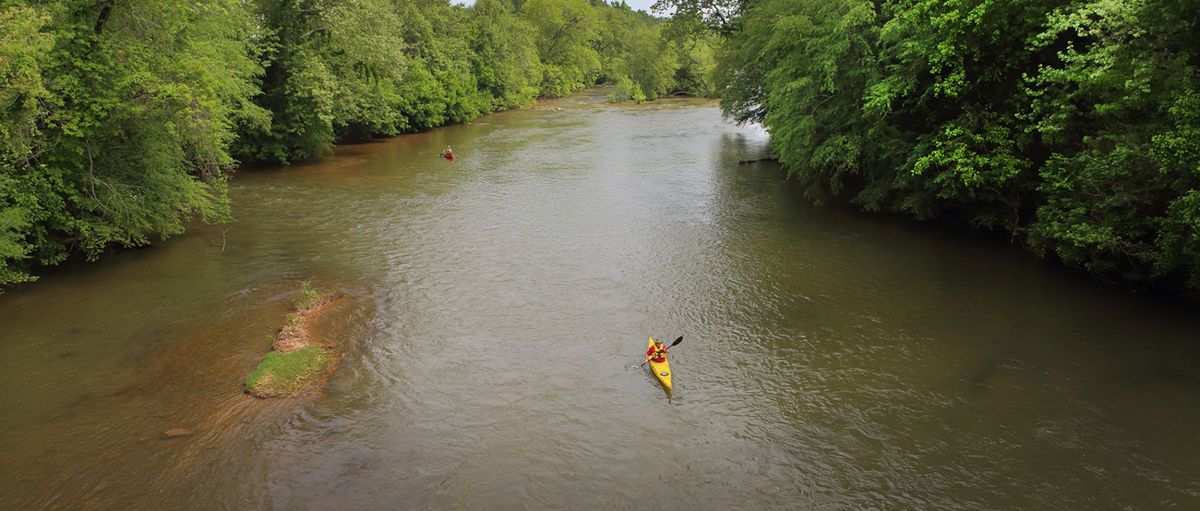 Take out at the Dan River Company's facility off Flinchum Road (a gravel road, enhancing the day's isolated feel), shower, then walk up the stairs to the Green Heron Ale House, a music venue with more than 20 taps of ales, beers and ciders. Enjoy a cold one, listen to regional musicians and let your day on the water wash over you.
Hike the Sauratowns
Hanging Rock and Pilot Mountain state parks bookend the ancient Sauratown Mountain range, which spans about 30 miles. Though the weathered Sauratowns only top out today at around 2,600 feet, that's still 1,700 feet above the surrounding countryside, offering hikers an Appalachian experience in the central part of our state.
Hanging Rock has more than 20 miles of trails that take hikers past waterfalls (Window and Hidden Falls on the 3.6-mile Indian Creek Trail) and to mountaintop outcrops with 360-degree views (the 1.3-mile Hanging Rock Trail, the 4.7-mile Moore's Wall Loop Trail). Pilot Mountain is known for its start-at-the-top philosophy that gives immediate access to the base of its iconic 200-foot-high pinnacle. The Grindstone, Mountain and Ledge Spring trails offer a more extensive and serene look at the mountain that was used as a lookout by its earliest inhabitants. The two mountains are linked by the 25-mile Sauratown Trail, part of the statewide Mountains-to-Sea Trail.
After a long day on the trail, you'll be up for a long evening in front of a plate of food. The town of Pilot Mountain has plenty of options, from the Tilted Ladder with its cozy indoor and outdoor seating options, to Aunt Bea's, with all-day breakfast and local barbecue.
Bike the Countryside
Cycle North Carolina's annual Mountains to Coast Ride is a weeklong bike ride that passes through our state's northern tier. The route takes advantage of roads with low traffic volume and the high plateau, which affords grand views of the Blue Ridge Mountains to the north and the rolling Piedmont countryside.
Highly recommended as the Cycle North Carolina route is, it's far from your only option. Rockingham County alone has multiple designated bike routes totaling more than 250 miles, and the popular Triple Hump Ride is a scenic and challenging 62-mile spin through Surry and Stokes counties that climbs Hanging Rock, Pilot Mountain and Sauratown Mountain.
Whatever your ride, make sure it includes a stop in downtown Reidsville: Within a five-block area of downtown, a hungry cyclist can find just about any fuel to replenish both soul and stomach. There's the funky Downtown Dog House (save room for homemade ice cream) and Cafe 99 (the '50s theme will take you back to the days of heavy steel bike frames and white sidewalls).
Explore on Horseback
The Sauratown Trail was built not as a hiking trail, but as a bridle trail to give local equestrians a place to ride. The result is a 25-mile trail that offers horseback riders lots of quality time in the saddle. Tokota Horse Stables near the east end of the trail helps the horseless experience the "cowboy way of life" with rides that last one to two hours and take you to the foot of Hanging Rock.
Experiencing that cowboy way of life may make you curious about other aspects of life hereabouts. And frankly, four days into your adventure vacation you may be up for a more cerebral rather than physical kind of exploring. The Eden Historical Museum captures local life from years ago to present day. Farming has long played a role in the regional economy; the Horne Creek Farm near Pinnacle gives a sense of what that life was like around 1900. Tour the family's original farmhouse, check out a tobacco curing barn and more at this state historic site.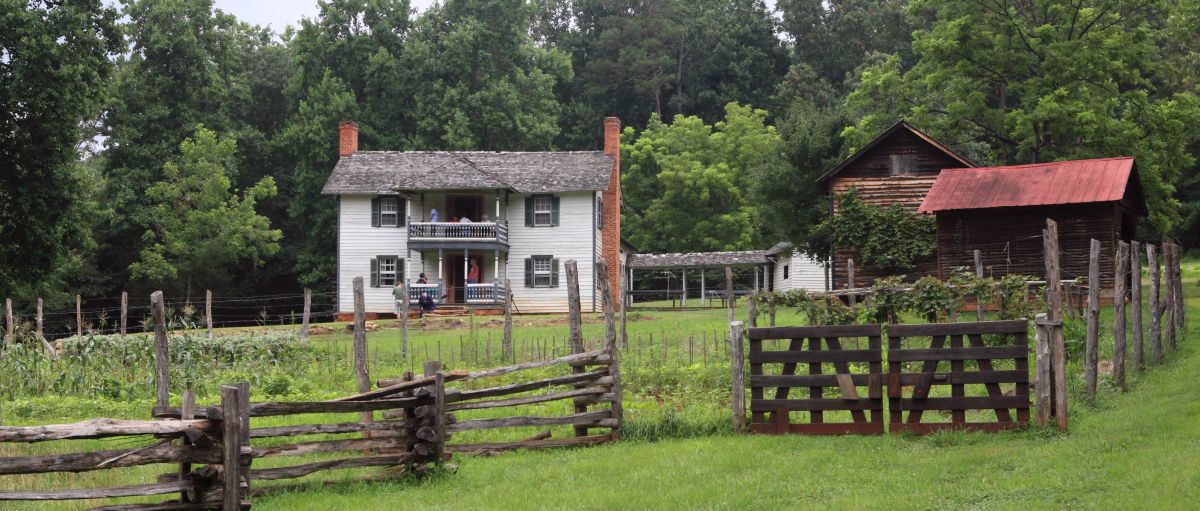 Raft the Whitewater
The first day of your trip, paddling the Dan River, has stuck with you. The scenery was great, but those heart-pumping Class I rapids – might there be more challenging water around? Indeed there is. Three Rivers Outfitters in Eden runs trips, appropriately, on the three main rivers in the area: the Dan, Mayo and Smith. If you have your own boat, Three Rivers will provide advice and a shuttle; if you need a boat, Three Rivers requires a guide to accompany any group taking its boats on Class II water or above. When there's water, the Mayo in particular is known for its Class III thrills. (Moving water, by the way, is rated on a scale of Class I to VI – I being a perky riffle, VI being the domain of the paddling elite.)
In the 1950s, drive-in movie theaters were all the rage; by the end of the century, they were all but gone. But a handful remain, including the Eden Drive-In. Get the kids in their jammies, visit the snack bar, hang the speaker on your window and enjoy a night of first-run films.
Go Tubing & Zip Lining
It's hard to find two adventures that scream family fun more than zip lining and tubing. Carolina Ziplines Canopy Tour in Westfield has more than a mile and a half of cable offering about two hours of elevated exploring. There's a high course for the already adventurous, a low course for those who need to ease into the experience. For a totally different experience, check out the nighttime Twilight Tour (which is on the high course, but you'll never know).
Cap a morning zip line tour with an afternoon of lazy tubing on the Dan River with General Dan Tubing Co. A shuttle to the river input is included in your tube rental, and then you simply float two hours or so back to your car.
Ravenous after a day of flying through the air and drifting atop the water? Check out Dick's Drive-In in Eden, where, since 1963, this family-owned restaurant has been offering curb service. And not just burgers and fries; you can get a meat and two vegetables delivered, as well.
Rock Climb Pilot Mountain
You graduated from the low course to the high course on yesterday's zip line tour and discovered, "Hey, maybe I don't have a thing about heights." So here you are at Pilot Mountain, strapped into a harness and about to climb Goldilocks, one of about 100 routes in Pilot Mountain's Ledge Spring area. Rated at 5.5 on the Yosemite Decimal System, Goldilocks is considered a beginner route, but there's plenty of challenge for more experienced climbers: Black and Blue Velvet, for instance, which tops the Yosemite Decimal System scale at 5.13. Of course, you'll get all this explained by your guide from Boone-based Rock Dimensions. Rates vary depending on group size.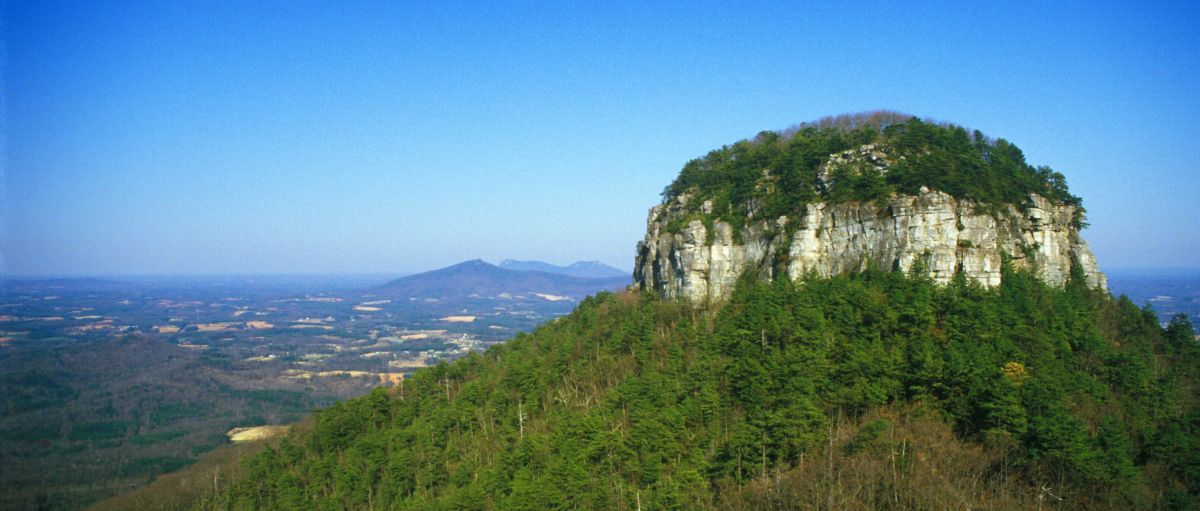 When you top out and your day on the rock – and your adventure vacation, as well – is done, you'll appreciate the ironic twist of having finished on Goldilocks: It won't matter what bed you collapse into, any one will feel just right.
North Carolina State Parks offer a variety of nature activities, but this also includes potential hazards. Take care, be safe and enjoy. And visit Outdoor NC for additional tips on how to connect with nature and help preserve the natural beauty of our state.
Updated March 1, 2023