Rachelle Chapman's Guide to Wheelchair-Accessible Getaways in North Carolina
I've always been a lover of travel with an adventurous spirit. But after my accident in 2010, I wondered if those adventures would still be possible from a wheelchair. Luckily, now more than ever, the travel industry is seeing the value in providing accommodations for people with disabilities, and I want to shine a bright light on some incredible places you can visit from the mountains to the shores of North Carolina.
The state has some amazing programs like the outdoor track chair loaner program through North Carolina Wildlife Resources Commission. Multiple places throughout the state loan out the track chair, along with the trailer, for six days at no cost! It helped me during many of my adventures!
Here is a breakdown of my six favorite wheelchair-accessible trips perfect for an accessible getaway.
Hendersonville, Flat Rock, DuPont Forest and Chimney Rock
Downtown Hendersonville is packed with adorable shops, restaurants, museums and more. Some highlights of our stops include Mike's on Main (it used to be an old pharmacy), Hands On! Childrens Museum, and the Mineral and Lapidary Museum. A few minutes down the road in Flat Rock is a wheelchair-accessible playground called Bryan Playground, where I'm able to roll on the structures with my daughter.
One of my favorite activities is the hike to Hooker Falls in DuPont State Forest! I needed the track chair, but it allowed me to see my first waterfall in 13 years (insert magical emoji).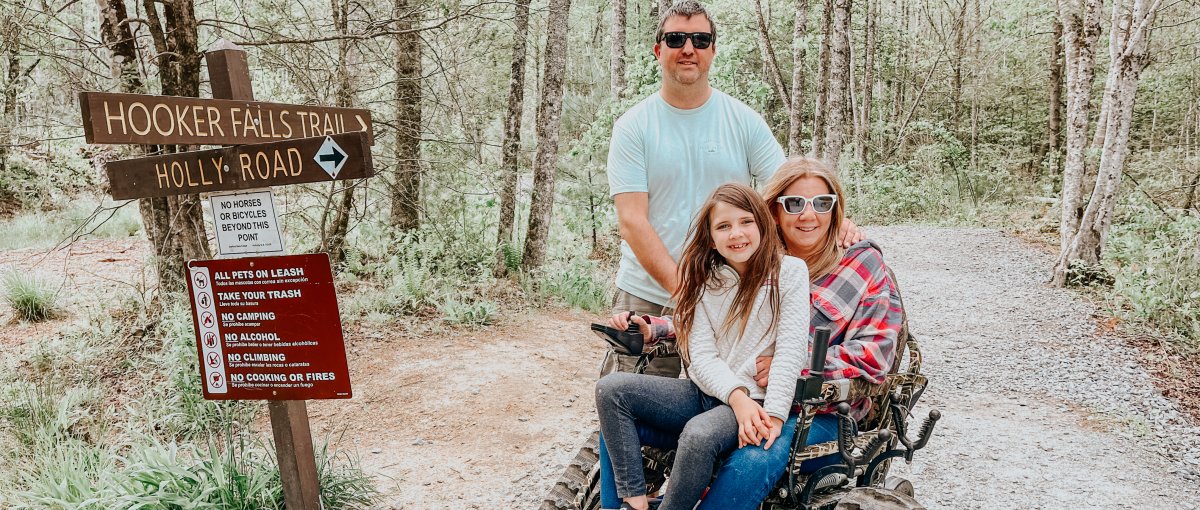 The Western North Carolina Air Museum is also very cool. There are so many old-school planes to see, and the kids can climb into some of the planes. After looking around, we saw a sign advertising helicopter rides that fly over the mountains and waterfalls. Yes, please! My husband lifted me in, but Scenic Helicopter Tours was so accommodating.
For great accommodations, stay at DuPont Yurts, where they have two accessible yurts. I love the roll-in shower, the bed height and the space. A total "glamping" experience. 
Also, make sure to take the 45-minute drive to Chimney Rock! They have an elevator that goes through the mountain to take you up! The view is absolutely stunning. Stay a night at the Carter Lodge while you're there. This family-owned place is doing everything it can to make it wheelchair accessible. The room even has an adjustable bed!
Bryson City and Cherokee
Bryson City is famous for fly-fishing, but it's also a great place for an accessible vacay. A ride with Great Smoky Mountains Railroad is so enjoyable and scenic, and there's a lift to get you on board. You pull up your wheelchair next to the bench, so make sure you have good breaks!
Nearby, the Road to Nowhere is also a must-see in Great Smoky Mountains National Park. They started building it for families to get back to their ancestors' properties but ran into funding issues and stopped. What is left is a very long, dark tunnel you can walk (or wheel) through.
You definitely need to spend some time exploring and eating your way through downtown Bryson City, and don't forget to hit up Harrah's Cherokee Casino Resort in Cherokee for some fun.
For waterfalls, these three are must-sees:
Tom Branch Falls at Deep Creek: I highly recommend the track chair, but it's doable with a power chair.
Looking Glass Falls: It's one of the most popular waterfalls in NC, and it's so easy to view! It has a platform for viewing and stairs for your family to walk down to get closer. Parking is not the easiest though.
Sliding Rock: There's a platform for you to view the waterfall, and your family can slide down these awesome rocks and swim! 
Stay at Lands Creek Log Cabins – they have two wheelchair-accessible cabins with no threshold to get inside, plus a fairly accessible bathroom. Being on the creek is beautiful, and they also have goats you can pet!
Duck, Kitty Hawk, Kill Devil Hills and Nags Head
North Carolina isn't short on beautiful beaches, and the Outer Banks is very accessible.
Hang gliding with Kitty Hawk Kites is so thrilling, and the views are amazing! They made me feel super comfortable, and they helped me into the harness.
For an awesome beach day, head to Jennette's Pier Beach Access. There is a ramp, beach mats and beach wheelchairs you can use for free. There are other accessible access points with beach wheelchairs to borrow throughout OBX.
History lovers should visit the Wright Brothers National Memorial. There's a replica of the Wright Brothers Glider and so much more. The North Carolina Aquarium on Roanoke Island is a must too! We had a blast looking at the baby otters, crocodiles, stingrays and some sharks. Afterward, head to the Bodie Island Lighthouse for beautiful scenery.
We stayed at Hilton Garden Inn Outer Banks/Kitty Hawk. Our room had a fully accessible bathroom with a roll-in shower, great bed height and an awesome view. They have a pool lift, ramps down to the beach and their own beach chair you can use! Don't forget to eat at the waterfront Sunset Bar and Grill in Duck for some of the best food and sunsets in the Outer Banks!
Carolina Beach
The next stop on my accessible travels across North Carolina is my favorite place: Carolina Beach! There are multiple beach wheelchairs you can rent at no cost through the Parks and Recreation Department or Ocean Cure. There are three access points with Mobi-mats to the beach as well. The boardwalk along the ocean is stunning, and right next to it are some awesome shops and restaurants. Stop at Britts Donuts on the way to the nearby carnival with the family!
I love surfing here, as well. Every year, there's a huge event called Life Rolls On with surfers of various disabilities who go adaptive surfing. If you aren't able to go to that event, Ocean Cure takes people out all the time.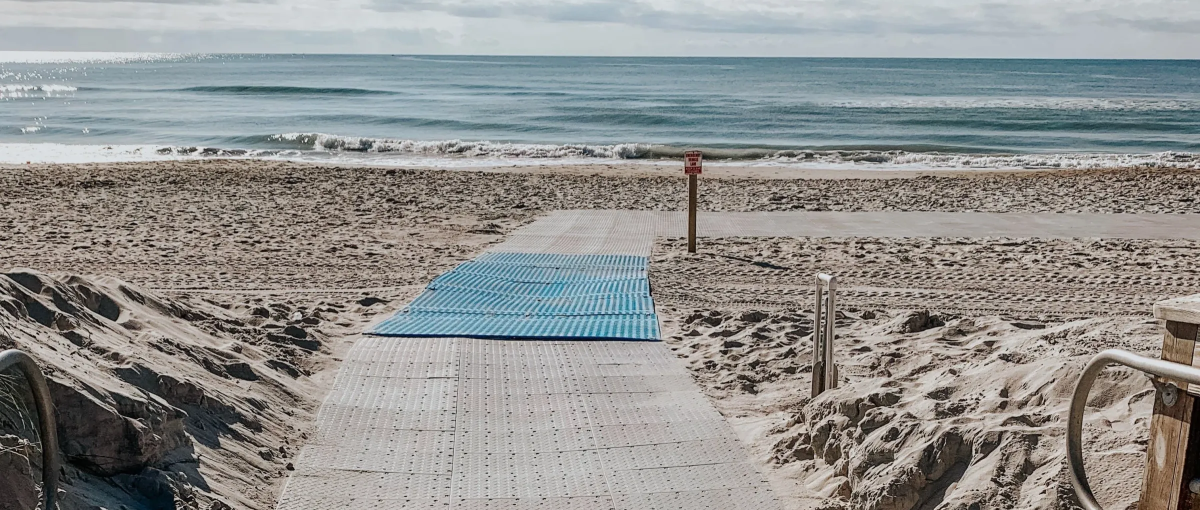 We stayed at Courtyard by Marriott Carolina Beach Oceanfront. There are beautiful rooms with great bathrooms and roll-in showers. There's a pool lift and a ramp that goes straight from the hotel to the boardwalk and beach! Grab a bite at the Lazy Pirate – it's a Carolina Beach staple, and outdoor seating is super fun with a tiki bar, sand volleyball, ax throwing, cornhole and live music.
Wilmington
This historic town is beautiful and accessible with so much to do. The Wilmington Riverwalk is stunning and very easy to roll around on. There are countless restaurants right on the water, and I highly recommend the Pilot House for its next-level food and view. Take a sunset tour by boat on the Henrietta. There is a ramp to get on and very helpful staff!
Across the river, you can also tour Battleship North Carolina. The deck of the ship is accessible, and that alone is incredible with so much history.
Strolling down Front Street in Historic Downtown Wilmington is another must! There are more restaurants and shops, and on Saturdays, there is an eclectic market. Afterward, stop at Airlie Gardens. The whole place is beautiful, but we especially love the butterfly house! I hear these botanical gardens are even more picturesque in fall.
We decided to stay at the Embassy Suites on the Riverfront. They have an extremely accessible suite with a sitting room, a separate bedroom and a very accessible bathroom. If you want a beach day, it's only 15 minutes away!
Chapel Hill and Durham
I'm not a Tar Heel, but I sure love Chapel Hill! Franklin Street runs alongside the UNC campus and has a lot to offer. There are many good shops and restaurants, and everything is wheelchair accessible. Eating at Sup Dogs is delicious!
On campus is the Morehead Planetarium and Science Center. It was incredible to sit in a domed room, watch an educational movie on the ceiling and then look at the stars.
Then head down the road to visit Spring Haven Farm. They have so many animals to interact with, gem mining and you can play with baby goats! They even show outdoor movies on the weekend, where the goats are just roaming around.
You should also take a ride to Durham to visit the Museum of Life and Science. I could spend all day here exploring the butterfly room, riding the train, letting the kids play in a huge wheelchair-accessible treehouse and seeing cool animals. I can get anywhere I wanted on the property.
The hotel we stayed at was incredible! The Graduate is a boutique hotel right off Franklin Street, which is definitely where you want to be. The hotel room has gym flooring and UNC decor. They even have a room you can go into that is a replica of Michael Jordan's dorm room. You can also play basketball on a carpeted Tar Heel basketball court with plush basketballs.
Whether you want to head to the beach, the mountains or stick somewhere in between, there is a wheelchair-accessible vacation awaiting you in North Carolina.
Updated September 25, 2023