Brunswick Islands: A Seafood, Wildlife and History Vacation
North Carolina's Brunswick Islands has the sandy beaches, vacation rental homes with ocean views, golf courses and other amenities you expect along our state's 300-mile coast. But the region's claims to fame, including a distinctive style of seafood, wildlife and history, make it a destination you must experience to appreciate.
You don't need a boat to fish the waters around the Brunswick Islands. You'll catch a variety of fish, from croaker to trout to king mackerel, by simply dropping your line from any one of five ocean piers – Ocean Isle, Oak Island, Ocean Crest, Holden Beach (currently closed until further notice) and Sunset Beach. These piers extend up to 1,000 feet into the Atlantic Ocean; purchase a pass and rent a rigged rod if you don't have one. Pier staff and fellow anglers are always willing to offer bait and technique suggestions.
Fishing is popular in the Brunswick Islands' vast salt marshes, which are also perfect for kayaking. Plan a twilight tour to watch the sunset or an early morning paddle down meandering waterways to watch and photograph wildlife. You might see dolphins or a wood stork, one of our state's largest water birds.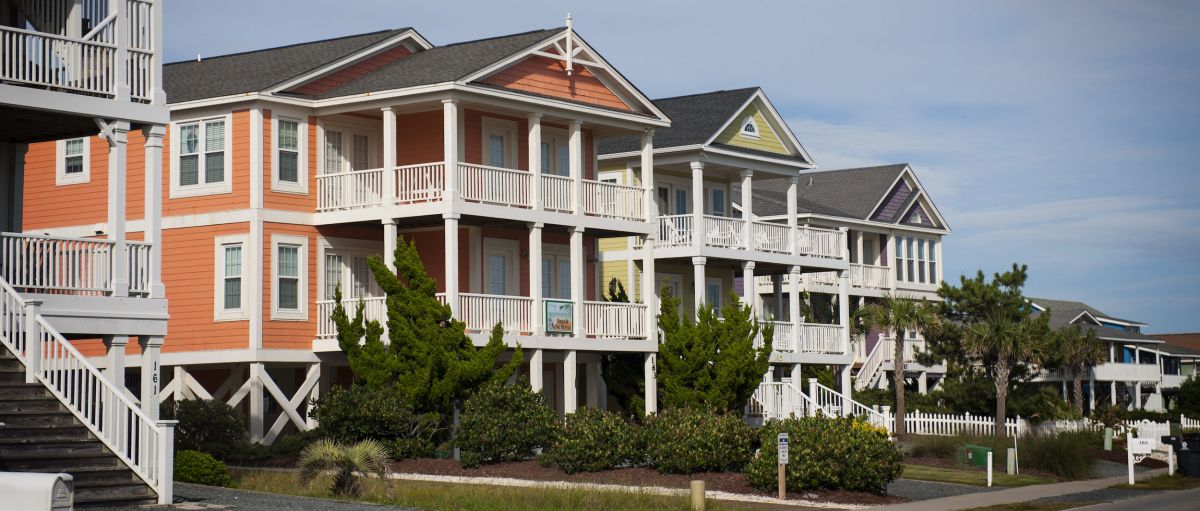 You'll come across plenty of creatures while floating among ancient cypress trees on a boat tour at The Swamp Park. You'll also trace the footsteps of President George Washington, who crossed here in 1791 while fulfilling a promise to visit all of the young country. Change your perspective by challenging the center's more than 1.25 miles of zip lines or attempting its Aerial Adventure Park's 50+ obstacles.
The Brunswick Islands is one of the most special places on Earth, and that's no truer than in late fall through early spring. The beaches here share one distinctive characteristic: an east-west orientation. That means when the sun is low in the southern sky, you can watch it rise and set over the ocean without ever moving your beach chair.
But be careful where you put that chair from May through October. That's when female sea turtles bury their eggs on the beaches and hatchlings return to the ocean. There are groups on each island dedicated to monitoring and protecting these endangered gentle giants. Many offer educational programs and tours, which give an up-close view of the 200-million-year-old ritual.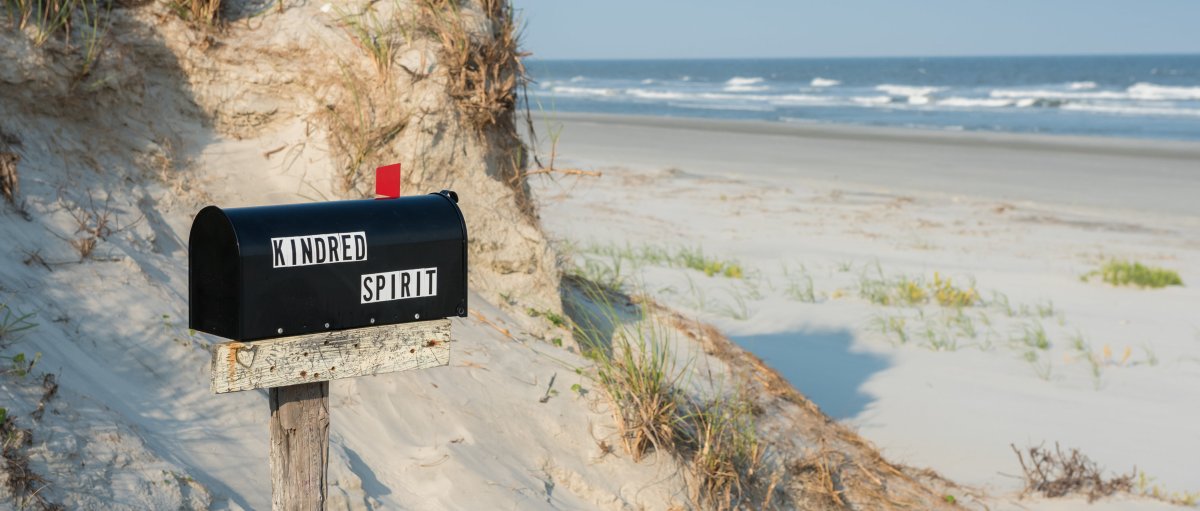 It's a long-but-pleasant walk from the nearest public access to the Kindred Spirit Mailbox, which is tucked behind the beach and between the dunes at the nearly 1,500-acre Bird Island Reserve. Pen a heartfelt message, thought or experience in one of the notebooks you'll find inside, or read ones that other visitors have left. It's a tradition that was started by a young couple more than 35 years ago.
Speaking of tradition, for more than a half-century, the sound of wooden boards rattling under car tires meant you were crossing the Sunset Beach swinging bridge, the last of its kind on the East Coast. Though it was replaced by the faster and taller Mannon C. Gore Bridge in 2011, you can still experience it at the Old Bridge Historical Society. Walk the boards and tour the tender's house to learn how this once-vital link to the mainland worked.
The historic year that's celebrated most prominently in the Brunswick Islands is 1776, the year of our nation's founding and Independence Day. Southport is home to the annual North Carolina 4th of July Festival, which spans one week and attracts about 50,000 people. The festival features everything from concerts, historic tours, and beach competitions to a parade and fireworks shows. If you visit Southport beyond July 4, you can still experience why it was named "America's Happiest Seaside Town" by Coastal Living magazine.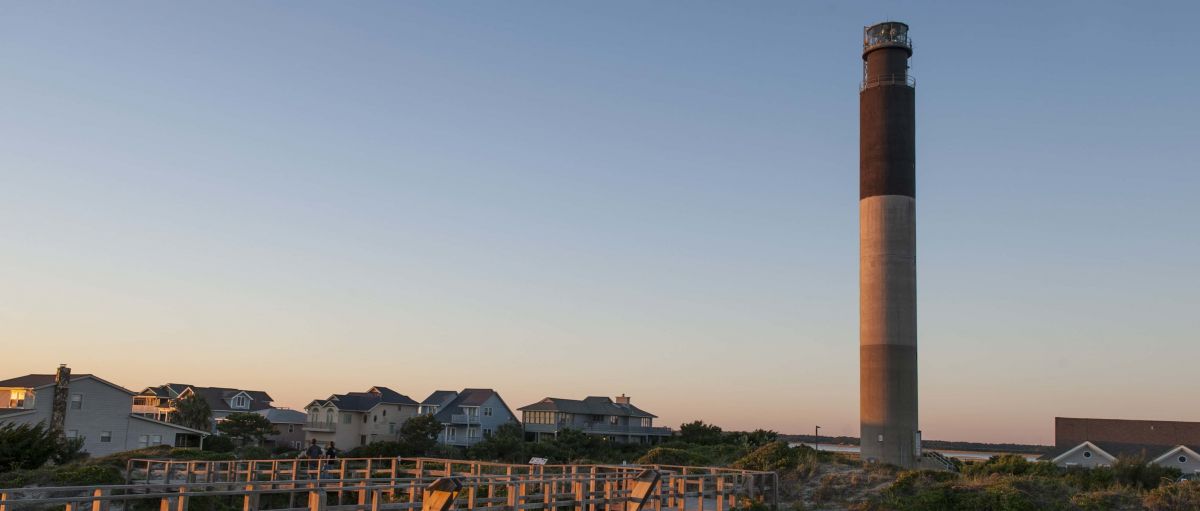 There's more maritime history to explore at the islands' two lighthouses. While second-level tours are offered twice weekly during summer, you'll need a reservation to scale the ship ladders that lead to the balcony of Oak Island Lighthouse, the last lighthouse built in North Carolina. Once there you'll see the remains of Fort Caswell and, in the distance, our state's oldest standing lighthouse, Old Baldy. Climb its 108 steps for a panoramic view of 12,000-acre Bald Head Island, which is more than 80 percent nature preserve. At its base is Smith Island Museum, a replica of the keeper's cottage set in the 1850s. Getting there is its own adventure. You'll take the ferry or sail your boat across the Cape Fear River and then walk or ride a golf cart to the lighthouse. Cars are prohibited on the island, which adds to its relaxed pace of life.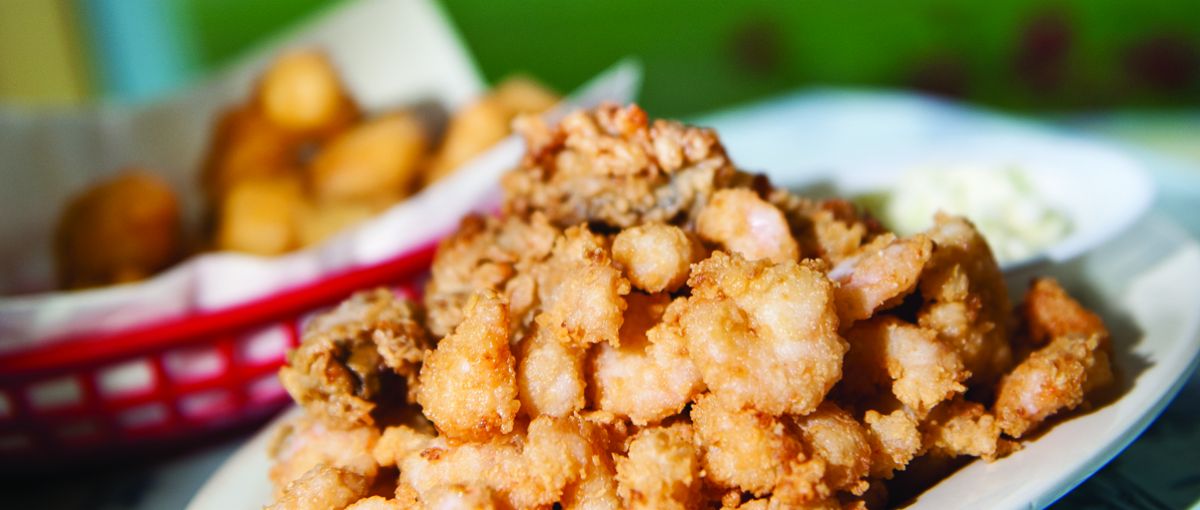 You can drive to Calabash and taste its namesake fried seafood that's light on breading, heavy on freshness and served with plenty of hush puppies. The decades-old tradition began when fishermen cooked their catches of shrimp, oysters, flounder and other seafood on the dock, and it continues today at the many restaurants they opened. The self-proclaimed "Seafood Capital of the World" reached a national audience in the 1950s when performer Jimmy Durante would close his shows with "Goodnight, Mrs. Calabash, wherever you are." Locals tell two tales of that woman's identity. Some say she's a hometown musician who left Durante's band. Others believe it's Lucy Coleman, the owner of a seafood restaurant who once served dinner to the performer.
This article was produced in partnership with NC's Brunswick Islands.
Updated May 16, 2023