Shop Smart: Tips for Your Trip to Hickory Furniture Mart
Located at roughly the midpoint between the bustling metros of Charlotte and Asheville is Hickory, a city that's grown in recent years as both a visitor destination and desirable place to relocate. And it's managed to grow in appeal while maintaining much of the city's charm and rich heritage, which many across the country know as an area that's been home to iconic furniture makers and brands for more than a century.
More than half a million people visit Hickory Furniture Mart each year, thanks to its reputation as a shopping destination where you could spend several hours or several days. There's a lot to explore across the four levels of indoor and outdoor furnishings, lighting, rugs and accessories, plus thousands of fabrics to custom design any piece of furniture, bedding ensemble or window treatment you desire. The 1,000-plus manufacturers represented here are spread across different showrooms, outlets, factory direct outlets and private galleries.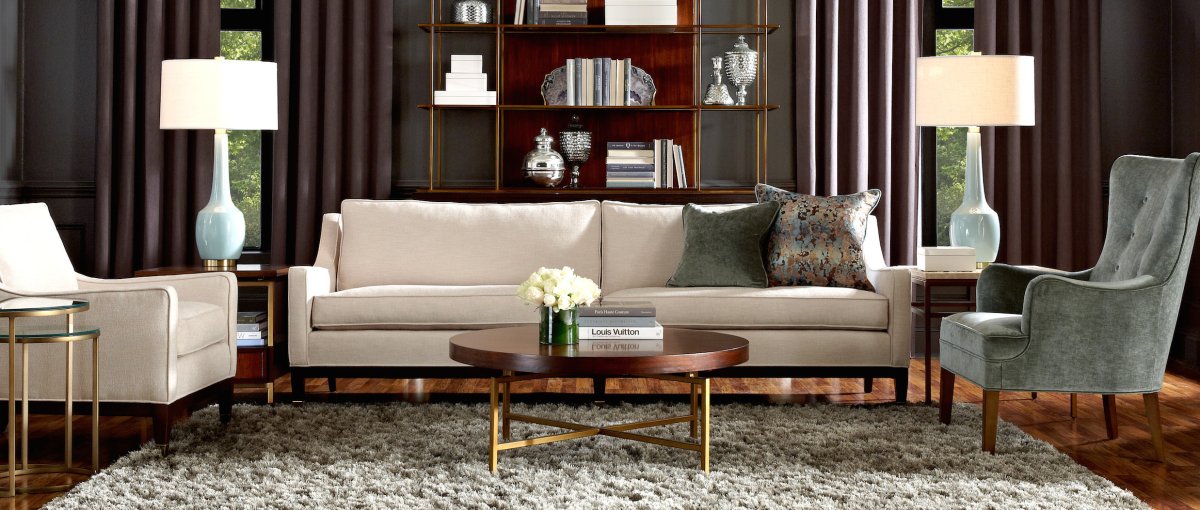 You'll find the full furniture spectrum from country to contemporary styles and a combination of high-end custom showrooms along with high-end factory outlets not found anywhere else. Browse through displays of deeply discounted samples, floor models and clearance items, or customize your perfect piece. With so many deals under one roof, you may need to spend more time inside each showroom than you had originally planned.
Tips for Your Trip
Prior to arriving at Hickory Furniture Mart, scour the showrooms and outlets' websites, all of which are linked from the Mart's website. Many list current inventory (which changes often), special events and services.
Experienced shoppers will tell you it's wise to bring photos, measurements and a floor plan of the rooms you'll be decorating. This information will ensure your selections fit and prove to be helpful to the showroom designers and sales staff who assist you. If your project is larger in scale, consider investing in some one-on-one time with a seasoned professional interior designer. Designing Women has been working with visitors inside the Mart for more than 30 years and has designed some of the finest homes around the world.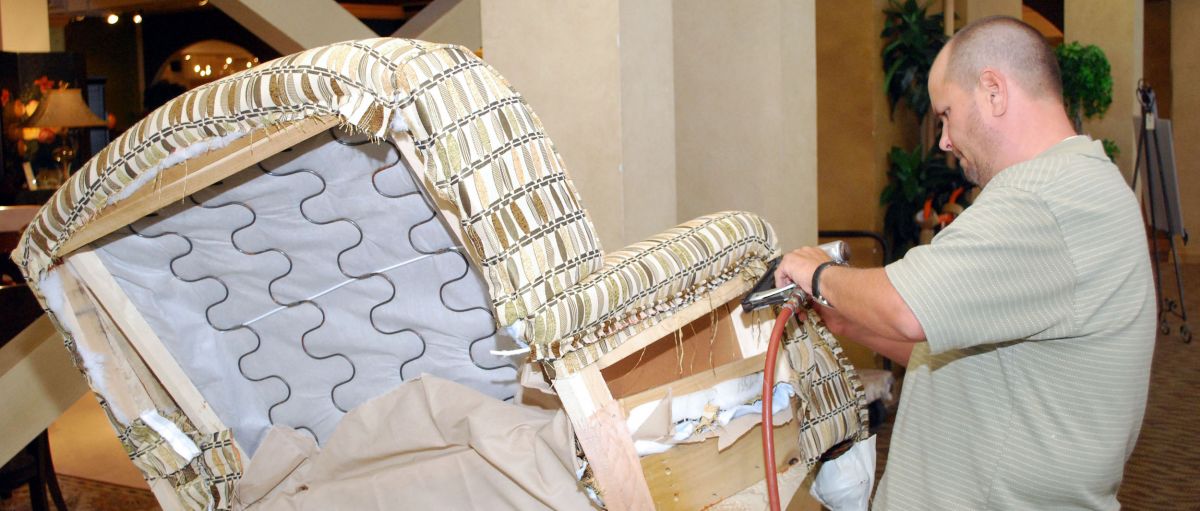 Don't give up on a piece that's close, but not exact. It's amazing how far showrooms are able to go to customize pieces in your favorite wood, stain, finish, upholstery, trim or color, or even build a piece to match your specific dimensions from the ground up. Resource Design, a fabric, drapery and hardware workroom, also is able to customize pillows, window treatments and bedding ensembles from thousands of available fabrics on-site. The service also partners with local upholstery experts to reupholster your favorite piece of furniture that has withstood the test of time, but needs a fresh look.
Once you've crossed everything off your shopping list, showrooms will consolidate your purchases and ship them to your home or other destination. Floor items may be taken home the same day.
Stop by for a quick treat at Taste Full Beans coffeehouse, or sit down and enjoy a leisurely lunch at The Wooden Spool Café. Both are located inside the Mart.
Hickory Furniture Mart is open Monday through Saturday. And whether you need more than one day to explore the Mart, or you want to make this shopping destination part of a multiday getaway, you should consider its Shop & Stay Packages. Choose from special rates at eight participating hotels, including two that offer discount cards for further furniture savings. While most are nearby, the Holiday Inn Express is on-site at Hickory Furniture Mart. A restful night is also the perfect start for discovering more of the city's culture.
Nearby Hickory Attractions
Several great dining options await within a few minutes' drive from the Mart or your hotel.
Head to Café Rule, a restaurant where southern dishes can be paired with an award-winning wine list. The eatery also entertains with live music Saturday evenings. Or delve further into the farm-to-fork experience to discover why Highland Avenue was named one of "The South's Best Restaurants 2015" by Southern Living. And it's located at the Crossing at Hollar Mill, a restored former cotton mill that hosts special events such as a biweekly concert series.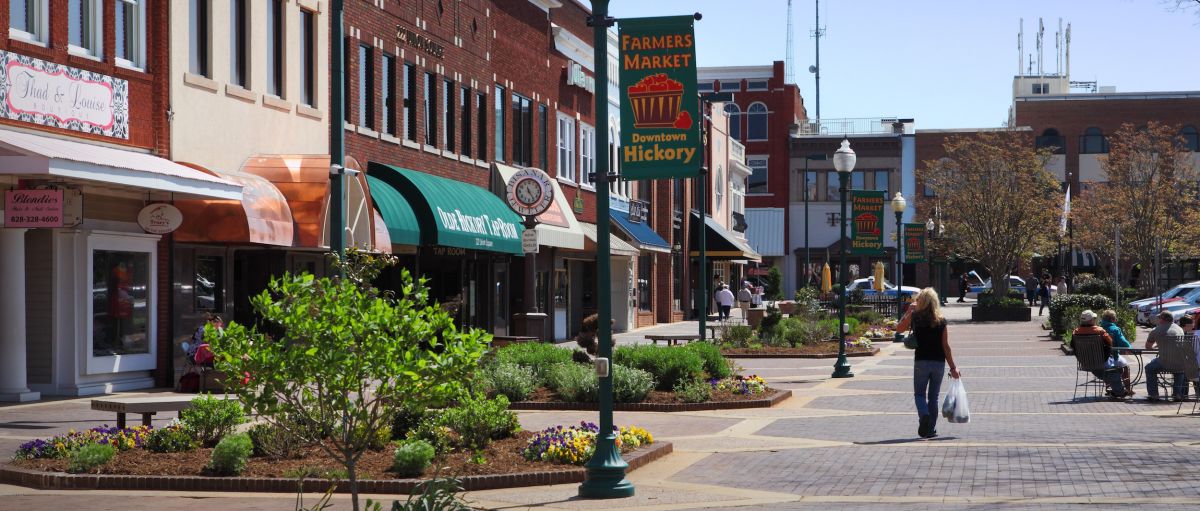 Take a stroll through historic downtown Hickory for a quaint and charming experience. Here you'll find Olde Hickory Station – housed in a former train station – that's both a restaurant and market that sells goods made in North Carolina, among other local shops. There's also the Hickory Museum of Art, Hickory Community Theatre and Catawba Science Center. Plus, downtown is full of seasonal activities, including the farmers market that's open Saturdays from 10 a.m. to 1 p.m.; and annual celebrations such as holiday events in December, and the twice-yearly art crawl in the spring and fall.
In nearby Conover, Rock Barn Country Club & Spa offers a great his-and-her experience (or a fun outing for you and your best friends). Treat yourself to a full spa package, a couples massage or simply a mani/pedi. And golf enthusiasts will look forward to booking a tee time at the Jackson Course, Rock Barn's public course.
This article was produced in partnership with Hickory Furniture Mart.
Updated December 4, 2020