Honor Our Military's Sacrifices at Lejeune Memorial Gardens in Jacksonville
It's easy to find reasons to visit Jacksonville, a well-equipped base camp filled with shopping and comfortable lodging with some of North Carolina's most incredible beaches – Hammocks Beach State Park and North Topsail Beach – nearby as well. And with unique restaurants such as Jeff's Burgers, Dogs & Shakes, Marina Café, Abruzzo's Pizza and Muddy's Coffee House all within a few miles of downtown, it rounds out a perfect destination for exploring.
But there's so much more than convenience. In a quiet corner near downtown stands Lejeune Memorial Gardens, full of monuments that honor service members and Jacksonville's military heritage. It's a legacy that continues today at Marine Corps Air Station New River and Camp Lejeune, which trains troops for combat and peacetime missions worldwide. Whether you've served or not, you'll find meaning within the Gardens' beautifully landscaped grounds, solemnly reflecting on sacrifices made.
Start your socially distant journey by downloading a Gardens guide and then head toward City Hall, where Johnson Boulevard becomes Lejeune Boulevard. Here you'll find the Freedom Fountain, built to honor all service members who spent time in Jacksonville and Onslow County. Medallions and flags honor the five armed-services branches, and the water jets represent federal, state and local governments as well as the 50 states.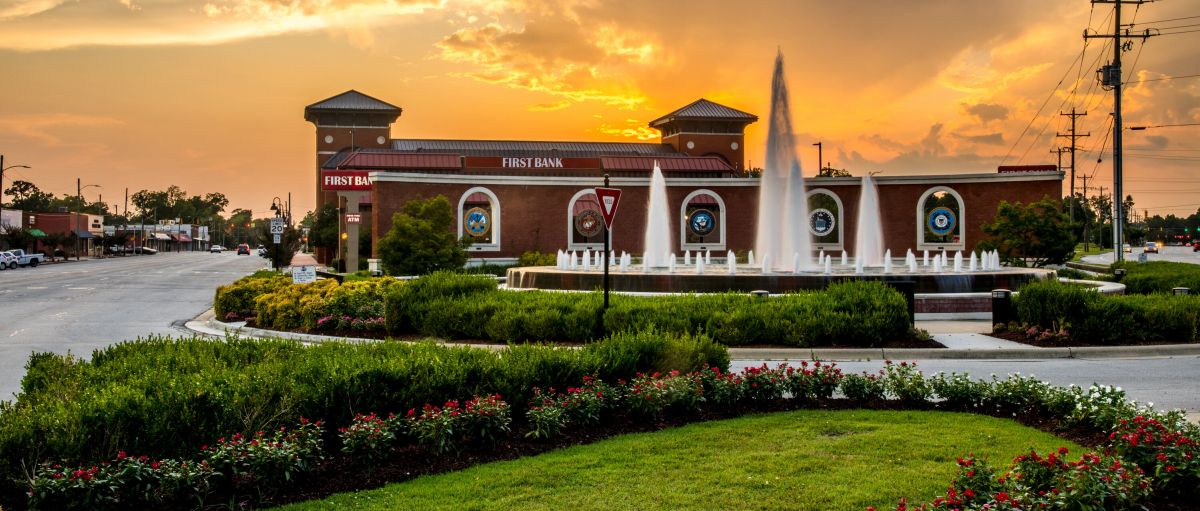 It's a quick walk or drive down Lejeune Boulevard to the rest of the Gardens, which are always open. Find parking off Montford Landing Road across from Montford Point National Cemetery, where family and church graveyards – some dating to the 1700s – were relocated as Camp Lejeune was built. Also across the street is the Coastal Carolina State Veterans Cemetery, where volunteers decorate headstones with U.S. flags for Veterans Day and wreaths in December.
Navigating the wide and level path that winds through the Gardens is easy for everyone, and you can follow it to begin your journey at the Beirut Memorial. This tribute honors the 273 Marines, sailors and service members who died as a result of the bomb blast in Lebanon on Oct. 23, 1983. Their names, along with "They Came In Peace," are carved in the granite, which features jagged edges to represent the bomb's destruction. As you reflect on the sacrifices made, be sure to stop and read the poem "The Other Wall," displayed on a bronze plaque.
Make your way to the 9/11 Memorial, whose simple composition speaks volumes. The piece of girder, which rests at an angle, was pulled from the World Trade Center and honors the first troops to invade Iraq after the 2001 terrorist attack. This steel piece was the first out of New York City on board an NYC firetruck to be given to honor the Marines. The anniversary – Patriot Day – is marked yearly here publicly at 8:15 a.m., the same time the first plane struck on 9/11.
Perched in a nearby reflecting pool is one of the world's largest versions of the Marine Corps symbol: the Eagle, Globe and Anchor. A smaller version is bestowed on Marines after they've completed the Crucible, a grueling 54-hour mental and physical test at the end of boot camp. Notice the stars, which represent where Marines are routinely deployed, and the eagle's banner, which proclaims their motto: semper fidelis. The fouled anchor represents sea and land duty.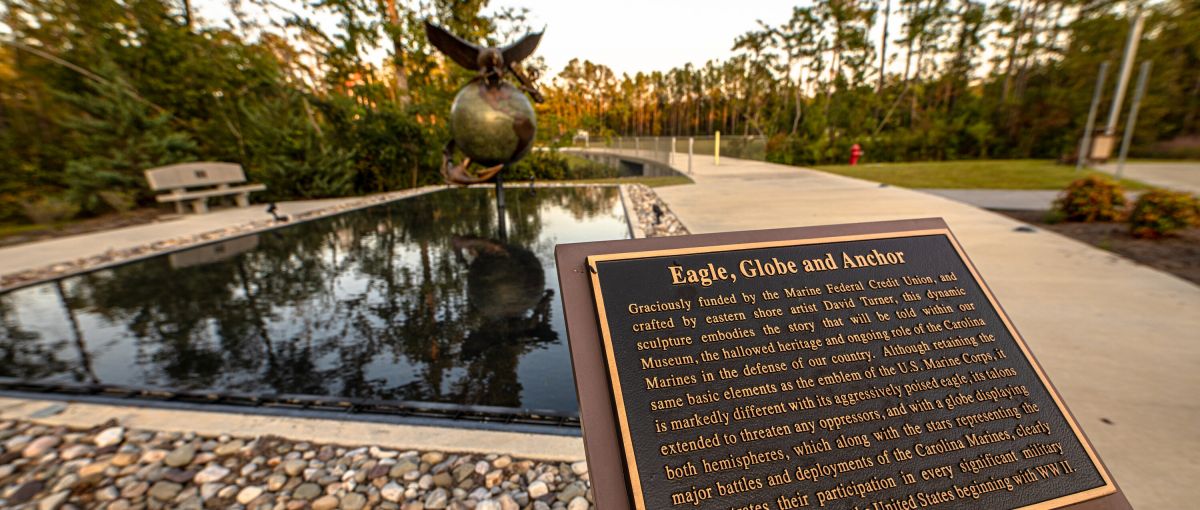 Continue along the path, which is surrounded by brilliant color in spring when the Gardens' many azaleas bloom. As a part of Jacksonville's Lejeune Greenway and Trail, the path takes walkers and bicyclists between downtown and Camp Lejeune. Along the way, stop at the small markers honoring Gold Star Mothers, who lost a child in combat, and residents whose land became Camp Lejeune.
Soon you'll reach the country's second largest Vietnam Veterans Memorial. Walk along its curved glass wall, where the names of all military members missing, imprisoned or killed in the war are listed alphabetically. In its center is a fountain with five jets, their colorful illumination best seen after sunset. Its dome displays the lyrics to "Taps," the haunting bugle call played at military funerals.
The Gardens are home to the only memorial to the country's first African American Marines, who completed segregated training at the end of Montford Landing Road, where Camp Johnson now hosts Marine Corps Combat Service Support schools. See an example of the anti-aircraft gun used by these Marines, then retrace their fights across World War II's Pacific Theater on the plaque at the base of the Montford Point Marine statue. The Marine's uphill climb in this statue mirrors the struggle for equality.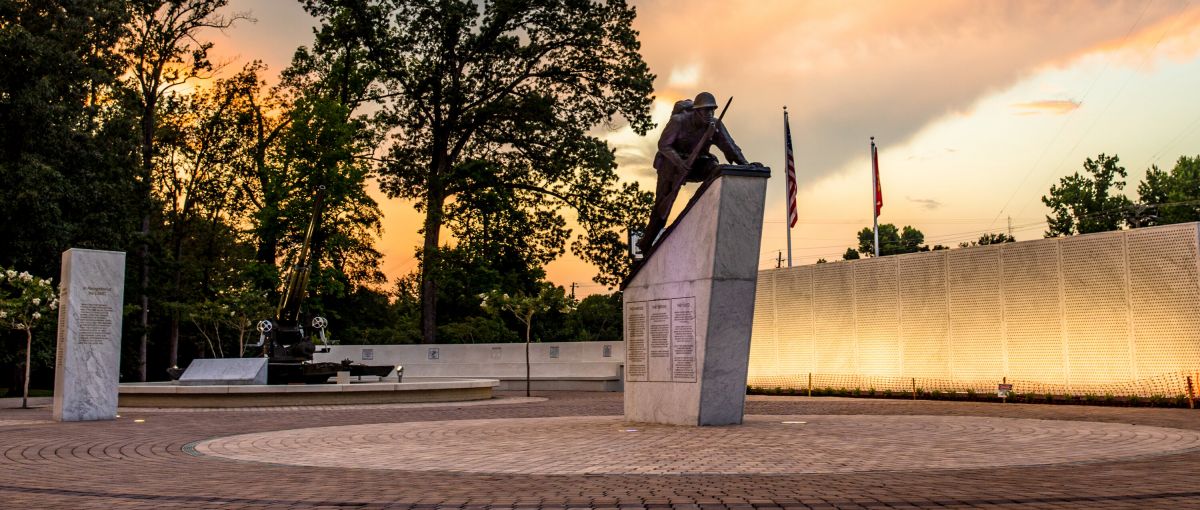 The most poignant part of the Montford Point Marine Memorial might be its 20,000 stars. They were used instead of names because a complete muster roll has been lost. Though work is underway to locate these Marines and their families, Jacksonville didn't wait. The city was also the first municipality to celebrate Freedom Day, a paid holiday on December's second Monday that honors African-American history and the passage of the U.S. Constitution's 13th Amendment, which ended slavery.
With so much to see and do, you might want to extend your stay or plan a return trip to share this special place with others. Fortunately making a three-day weekend out of your visit to Jacksonville is simple – and you'll leave with your patriotic spirit refreshed.
This article was produced in partnership with, and all photos are courtesy of, Visit Jacksonville, NC.
Updated February 1, 2021