Get Away to Chimney Rock, Lake Lure and Towns in the Foothills
Located midway between Asheville and Charlotte, the Lake Lure area of the Blue Ridge Foothills has been a gem since its settlers searched for gold, becoming the birthplace of America's first $1 gold coin. Discover its history – including connections to movies! – and lay claim to top-notch cuisine, accommodations and adventures during a three-day trip.
Day 1: See the Sights
Start your day with a latte, smoothie or pastry at Coffee on the Rocks near the entrance to Chimney Rock State Park. Once you're energized, it's time to hike.
The park offers six hiking trails, all of which provide spectacular views and chances to see rare plants and animals. Nearly 500 steps on the Outcroppings Trail take you to the top of the park's centerpiece – 315-foot Chimney Rock – where panoramic views stretch 75 miles. Or follow gentle rolling Hickory Nut Falls Trail to one of the tallest waterfalls in the East and setting for the 1992 movie The Last of the Mohicans. For a steep but rewarding hike, try the 0.6-mile Exclamation Point Trail. It also offers the best chance to see a peregrine falcon, which has the ability to dive at a speed of 200 miles per hour to snatch prey midair. Continue from here along the Skyline Trail to the top of Hickory Nut Falls.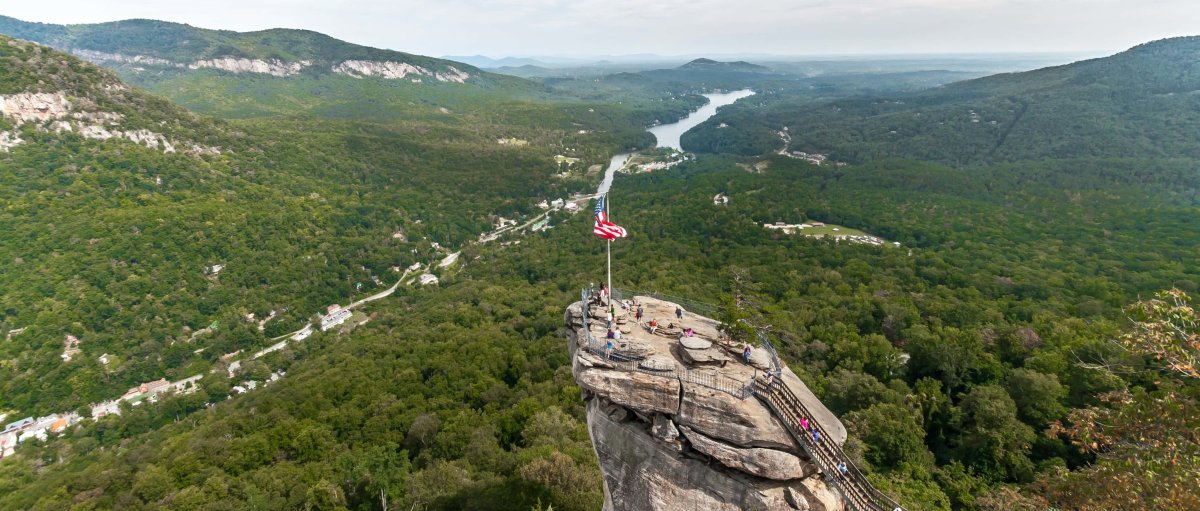 Hunt a post-hike lunch at Riverwatch Bar & Grill on Chimney Rock Village's main strip. Enjoy a burger, sandwich or hot dog on one of its riverside decks. If you need to cool down further, stop for one of Chimney Rock Brewing Company's craft beers, which range from a blonde ale to a spiced Scottish ale. You'll also want to carve out time to check out some of the shops in Chimney Rock Village, including Bubba O'Leary's General Store and Chimney Rock Gemstone Mine, for keepsakes to take home.
The Esmeralda Inn & Restaurant has starred in silent films and hosted Cary Grant. You'll cross more of its movie history while checking in. The lobby's floor boards were sourced from a set that Patrick Swayze and Jennifer Grey danced across in Dirty Dancing, portions of which were filmed locally. Dine like a celebrity in the inn's restaurant, sipping well-crafted cocktails or wine, and feasting on a slow-cooked lamb shank or Angus filet. (Please note: The Esmeralda is closed for renovations through 2023.)
Day 2: Seek Outdoor Adventure
Start your day with Lake Lure Tours, where you'll chart a course for adventure. Rent a pontoon boat, kayak, stand-up paddleboard or canoe, or reserve a seat on a guided cruise. Your skipper will share lake history and points of interest, including a Dirty Dancing filming location. Visit another site of the film with a round of golf at Bald Mountain Golf Course at Rumbling Bald on Lake Lure, where a scene was shot on hole No. 16.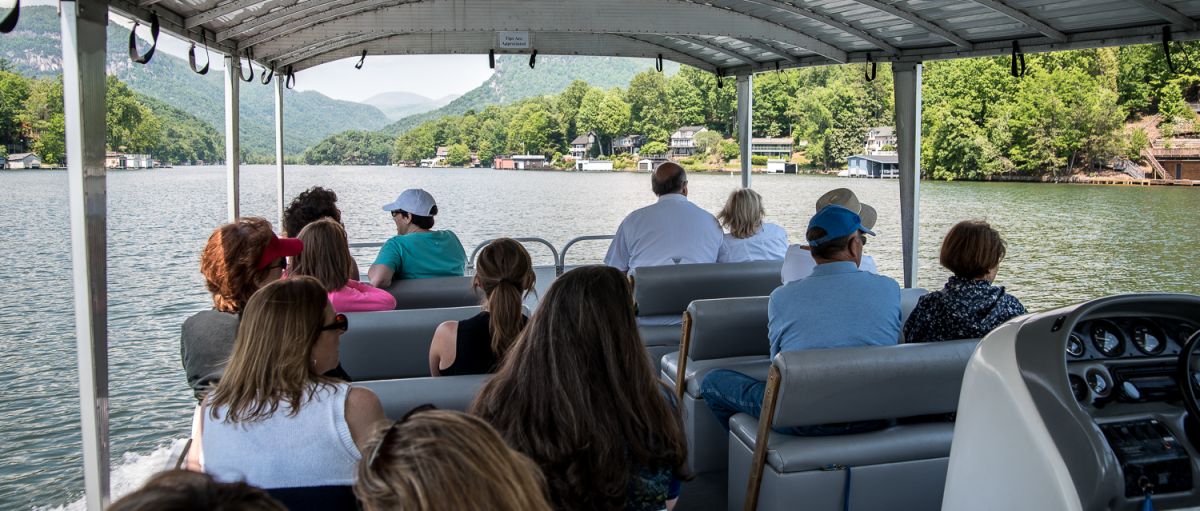 The lake views continue at family-owned La Strada at Lake Lure. The lunch menu at this Italian grill is extensive and includes mouthwatering appetizers such as sweet potato waffle fries with piña colada caramel dipping sauce, parmesan-encrusted fried shrimp, and four cheese crab and spinach dip.
Butterflies – at least in your stomach – won't be an issue on Canopy Ridge Farm's six zip lines, which stretch up to 1,000 feet. That's because you'll be too busy laughing at the jokes told by your guides. Whether you're a first-time or experienced rider, they'll help you maximize the sights and sensations of soaring through the forest's canopy and ensure your safety. But if you'd rather have four feet on the ground, saddle up at Cedar Creek Stables for a guided tour that journeys through creeks and mountain trails.
Enjoy dinner lakeside at LakeHouse Restaurant, where upstairs is an upscale dining experience but downstairs, and on the outdoor patio, offers more laidback vibes.
Continue unwinding at The 1927 Lake Lure Inn & Spa. With recently renovated public spaces, the rooms here feel like home, and the spa's Irongate Signature Swedish service will ease any ache.
Day 3: Uncover History
Follow US Highway 64 from Lake Lure to Rutherfordton, where you can enjoy your breakfast at The Garden Cafe while admiring local art before getting an introduction to the city's famous son, Christopher Bechtler. He minted $1 gold coins in 1832, almost 20 years before the federal government.
You'll find Bechtler's home – headquarters for the North Carolina Gold Trail – on the way to Bechtler Mint Site and Historic Park. His story, coin press and other artifacts are displayed at the home, while the park features a replica of his contraption that caught gold dust from miners' boots, interpretive signs and amazing South Mountains views.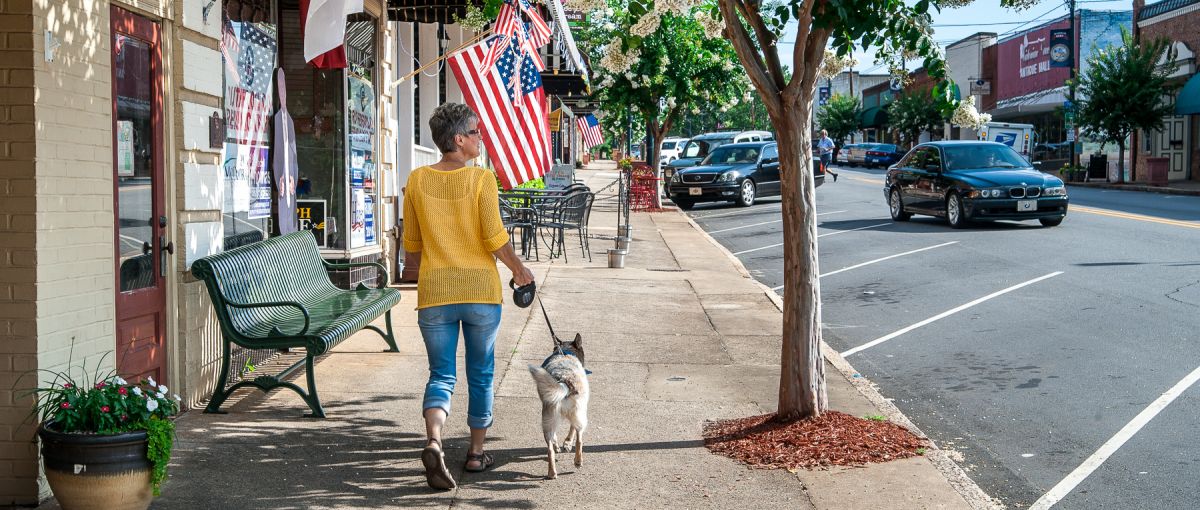 Return to Rutherfordton's Main Street, where the Overmountain Men marched on the way to turning the tide of the American Revolution at nearby Kings Mountain. You'll find the last cluster of antebellum homes in the southern Foothills along with treasures to take with you, from antiques in small shops to local artisans' creations at the Rutherford County Visual Arts Center.
Locals love the oven-toasted sandwiches and calzones at Barley's Tap Room & Pizzeria. The restaurant, inside a renovated 1920s pharmacy and decorated with old photographs, serves up a look at Spindale's history.
The Cherry Bounce Trail was used by moonshiners, but today it delivers you to some of the county's prettiest views and Blue Ridge Distilling Co. Discover its revolutionary process, which adds the barrel to the whisky, on a tour with the owners, whose other job is salvage diving. Sample its Defiant whisky's vanilla notes and peppery finish with a tasting.
Recharge your batteries with a treat from the soda fountain at Smith's Drugs before exploring downtown. Main Street, which is on the National Register of Historic Places, features a landscaped median, tree-lined sidewalk and mix of new and longtime shops. Enjoy dinner at one of Copper Penny Grill's coin-covered tables. Regulars point to its specialties, such as grilled salmon with lemon-dill sauce, and the lobster bisque and vegetarian dishes.
Return to Rutherfordton for one last dose of small-town charm at The Firehouse Inn, which was built in 1925 as a town hall and fire department complex.
This trip idea was produced in partnership with Rutherford County Tourism.
Updated June 23, 2023