Spring NASCAR Weekend in Charlotte, Concord & Lexington
If you're a diehard NASCAR racing fan, then a trip to Charlotte Motor Speedway to watch the Coca-Cola 600 over Memorial Day weekend is on your bucket list. North Carolina is the home of NASCAR and many of the teams that compete in its races, so if you extend your trip a few days, you'll be able to cross off a few more experiences on your list. Touring team shops, watching drivers compete in another type of car, diving into the sport's past and celebrating it with other fans is all there for the taking if you make Charlotte your base camp for a four-day trip.
Day 1: NASCAR Hall of Fame
Start your trip in Uptown Charlotte at the NASCAR Hall of Fame. It's where the sport's biggest names are enshrined in the Hall of Honor. There is a lot to see, so take your time – at least an entire morning or afternoon.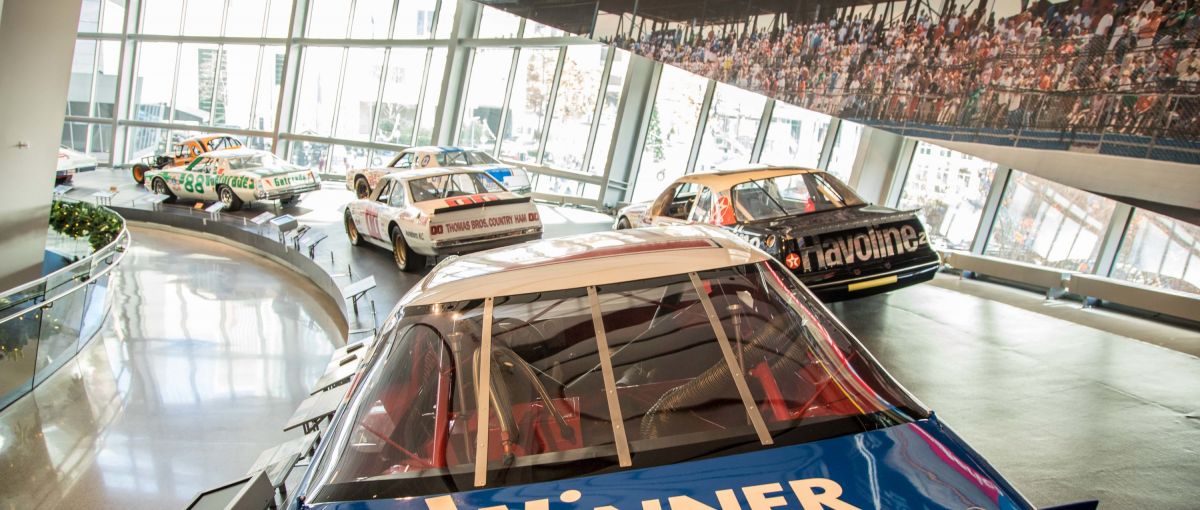 Begin your visit at the Glory Road exhibit. The current collection of 19 race-used cars debuted in 2023 as a tribute to NASCAR's 75th anniversary. The pitch of the exhibit changes through its length, each degree of banking marked and matched to that of an actual track. In the Heritage Speedway exhibit, you can trace NASCAR's 70+ years of history through trophies, uniforms, car parts and even pieces of pavement cut from different tracks. But looking is one thing, and trying is another. You'll find interactive exhibits in the Inside NASCAR portion of the hall. You can build your own race car at the virtual painting booth, explore celebrated racetracks through photos and projections, and try out your skills as a NASCAR reporter.
Day 2: Race Shops & Speed Street
The majority of NASCAR teams are based around Charlotte, and all are happy to have you visit them. Most offer viewing areas where you can watch mechanics prepare the cars for the Coca-Cola 600 and other upcoming races. Start your day in Mooresville, where you'll find Penske Racing. Climb the stairs and enjoy the view of the shop floor from the second-floor balcony. Souvenirs are available here but not access to the team's IndyCar shops. You can also check out the Memory Lane Museum in Mooresville, where more than 150 automobiles are on display, including many from former NASCAR drivers.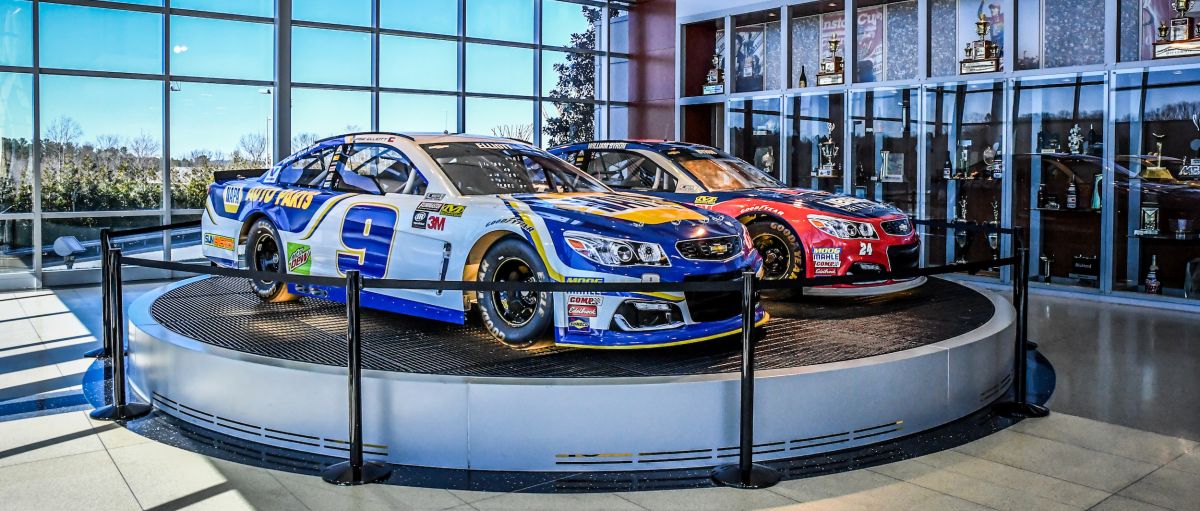 After making the short drive to Concord, visit Hendrick Motorsports, which is 1 mile from Charlotte Motor Speedway. Park your car at the team's museum, where televisions play videos of Hendrick drivers sharing stories from their careers. Two displays give good explanations of how a race car and its engine work. Race cars on exhibit will take you from the team's one-car beginnings to its current four-car dynasty. When you're done, take a short walk up the hill to the shops and peer through huge windows at cars being prepared for Kyle Larson, Chase Elliott, William Byron and Alex Bowman, as well as memorabilia from Jeff Gordon's many years with the team.
Then it's time to head to Charlotte Motor Speedway for Speed Street. The festival ties food, fun and music together with a racing theme. Admission to the 10-acre fan zone is free if you have a ticket to any of the three NASCAR events over the weekend, but you can also purchase a single-day Speed Street ticket. It's a small cost to be entertained by chart-topping national recording artists, see NASCAR drivers, grab souvenirs and play interactive games.
Day 3: Hot Dogs & Wine
After two days experiencing race week excitement firsthand, drop your trip into low gear and spend the day outside of the Charlotte region. After a 90-minute drive, you can be in Winston-Salem for lunch, a perfect time to stop at Pulliam's for hot dogs and barbecue. It doesn't look like much – a small green-and-white striped building in a gravel parking lot – but inside is a heaping helping of racing history and the best hot dogs in the South, according to editors at celebrity chef Rachael Ray's magazine. The regulars like them "all the way" – mustard, onions, slaw and chili. Former NASCAR CEO Bill France Jr. loved them so much that he would divert his corporate plane to Winston-Salem so he could pick up a few on the way to a race. You can eat your hot dogs at the stainless steel counter inside – they don't have tables – while you look at the photos and souvenirs from racing past, or enjoy them outside.
On your way back to Concord and Charlotte, take US Highway 52 south from Winston-Salem to Lexington. That's where you'll find Childress Vineyards. Owned by former NASCAR driver and current team owner Richard Childress, the vineyard features a tasting room where you can sample chardonnays and merlots and purchase your favorites to take home.
Day 4: Coca-Cola 600
Sunday, May 28, 2023, is race day at Charlotte Motor Speedway. The Coca-Cola 600 is the longest race on the Monster Energy NASCAR Cup Series schedule and a Memorial Day weekend tradition. Traffic on race morning can be bad, so plan on getting to the track early. The most traffic is usually on Bruton Smith Boulevard and both ways on Interstate 85 from its exit, so try using NC Highways 29 or 49 to get to the track. One option that eliminates the traffic altogether is staying in an RV at the track campground.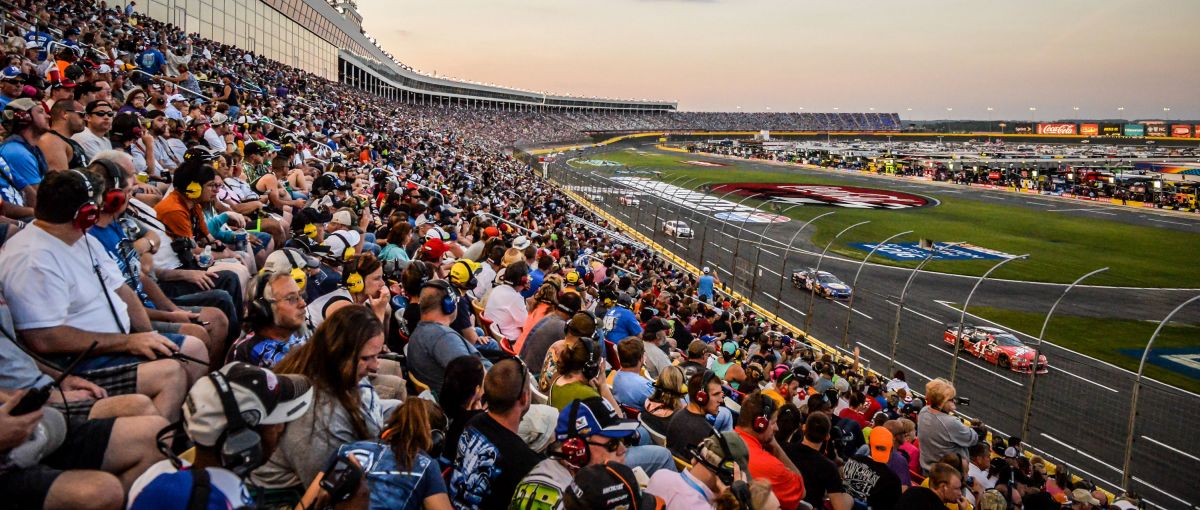 Getting to the track early will give you some time to pick up souvenirs from your favorite driver's merchandise trailer and soak in the atmosphere. Charlotte Motor Speedway is known for its prerace activities, including country music concerts, flyovers and mock military invasions. You won't miss any action, no matter where your seats are. The track is home to one of the world's largest high-definition televisions, which measures 80 feet tall and 200 feet wide. Keep an eye on the standings as the race moves from its daytime start to nighttime finish. Often the cars that are slower during the day will jump to the front during the evening as temperatures cool, traction increases and adjustments to the cars' suspensions take hold.
Updated February 10, 2023