Hendersonville, NC: An Outdoor Haven for Hiking, Climbing and Foraging
Outdoor NC has partnered with local tourism organizations across the state to help promote the protection of North Carolina's stunning and diverse outdoor spaces by practicing the 7 Principles of Leave No Trace. Here are some insider tips if you're visiting the Hendersonville area.
Q&A host: Sarah Murphy
Outdoor passion: Hiking, climbing, mushroom foraging, jumping into cold water
Where in NC: Henderson County
Favorite places in the Hendersonville area to spend outdoors?
One of my standouts is the Green River, which is a world-class river with paddling options ranging from Class I through V. If you're new to paddling, Green River Adventures offers guided trips down the Lower Green, which is Class I, as well as the Upper Green, which is an amazing opportunity to travel through the gorge, hit some Class III rapids, take in the features unique to a temperate rainforest and maybe even spot some neat wildlife.
As far as hikes in Henderson County, Bearwallow Mountain is a must (packing a huge punch for a 2-mile round trip trek), and if you're especially ambitious, you can hit the Trombatore Trail on the same day; the trailhead is located directly across the road. The views from Bearwallow are expansive and breathtaking, with sprawling grassy mountainsides and standing stones that always leave me feeling transported and inspired. The trail was recently extended to connect with the Wildcat Rock Trail, which finishes at Little Bearwallow Falls. These systems were built and maintained by Conserving Carolina, a local nonprofit that does exceptional work to protect our mountains, wetlands and rivers.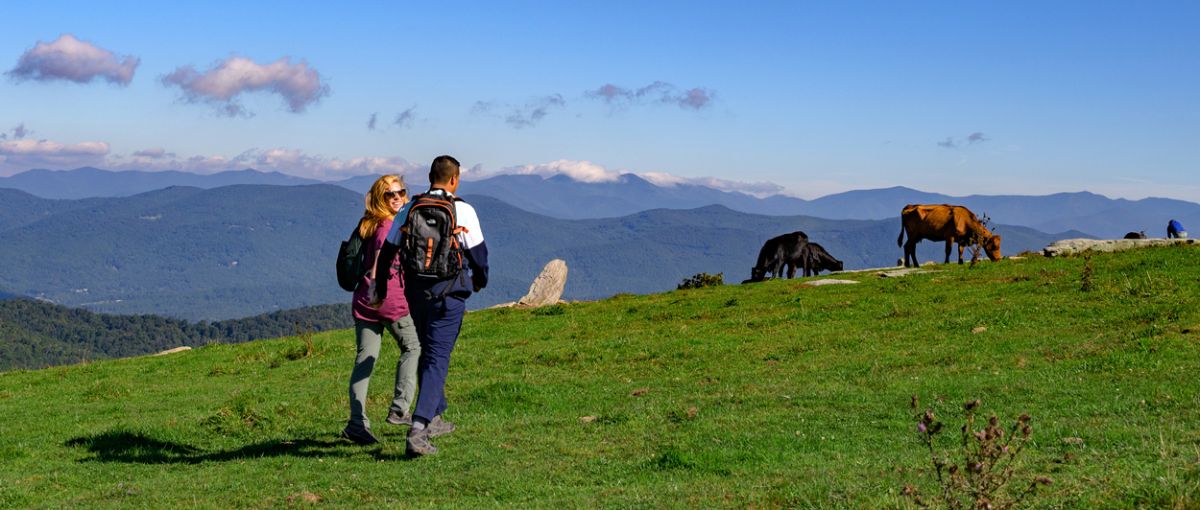 Best season to spend in NC?
All the seasons are my favorite! But if I had to pick, I'd say summer is when nearly all of my primetime activities are in full swing. The warmer weather and brief afternoon thunderstorms encourage our edible mushrooms to start fruiting – and there are some incredible choice mushrooms to be found. I took a workshop with "the fun-guy" Greg of Deep Woods Mushrooms last year and absorbed a ton of information on when and where to look for the varieties that are best to eat, and even enjoyed a tasting at the end. If you're lucky, he might serve you a fungi pizza straight from his outdoor oven.
Summer also gives me a chance to get in the water as often as possible. This year, I discovered a treasure trove of tucked-away swimming holes and even got to snorkel in the Davidson River, where I admired the native rainbow trout going about their business. That was truly a magical experience! I've also taken some fly-fishing lessons with local guides, and those opportunities to get up close and personal with native species have taught me to appreciate these ecosystems on a deeper level.
I'd be remiss if I glossed over autumn. The foliage. Outdoor climbing at Rumbling Bald. And you CAN'T MISS apple picking in Henderson County. Grandad's Apples is my top choice.
What level of experience is needed for outdoor activities?
The great thing about this area is that it has something for everyone, with options for novices through experts in every activity I can think of. And there are so many opportunities to progress on a broad range of trails throughout the area; DuPont State Recreational Forest is a great place to start, and separately to chase waterfalls.
How long should you plan on visiting the Hendersonville area?
If you're anything like me, you'll agree that it'd take a lifetime to scratch the surface of all there is to see and do. I originally signed a six-month lease to live in a tiny house in Hendersonville, and four years later, I've still got the bug. Or I've just fallen in love with this place so deeply that it's become home. I do think you can get a solid exposure to the area in a week – just be forewarned that you might be tempted to stay a lot longer.
What attracted you to North Carolina or Hendersonville?
I was originally attracted to North Carolina for the hiking opportunities. I'd come through on a road trip in 2016 and, on a whim, hiked to the top of Looking Glass Rock in Pisgah National Forest. That was really the only excursion I had time for on that visit through the state, but something about it stayed with me. This is kind of crazy, but two years later, I had a few different living opportunities I was considering, so I flipped a coin to get a gut check on the outcome. It landed on North Carolina and I immediately felt this sense of relief, like my path was supposed to bring me here.
What is unique about the Hendersonville area?
There's a ton that makes this area unique. I studied English literature, so I find the storytelling that comes from these mountains rich and spellbinding, and reflective of the unique Appalachian experience.
Another unique aspect is the biodiversity. During early summer in Henderson County, you can find blue ghost fireflies, which hover just above the forest floor and emit a hauntingly ethereal blue light, as well as white squirrels! Plus, the flora is incredibly spectacular; if you visit during spring, you're almost certainly going to see a dense population of native plants such as trillium, bloodroot, trout lily, Dutchman's-breeches and jack-in-the-pulpit.
How do you plan or prepare for your outdoor activities?
I use All Trails to discover new places to explore, but I navigate using Gaia's offline maps. I've learned through experience that it's a good idea to overprepare for your adventure, even if it's just a day hike, and plan as though you would have to spend the night. So I'd recommend packing extra food and water, an emergency blanket, spare batteries for a headlight and a first aid kit, just in case. I'd also recommend talking to locals as much as possible; all of the best leads I've ever gotten have come from the people who live the life.
What piece of gear is your must-have?
I go everywhere in my Astral shoes. These shoes are a must-have for wherever your feet may take you, whether it's wading in rivers, rappelling down slick waterfall rock faces or kayaking our beautiful rivers. I've even taken mine on multiday hikes because they're so lightweight. They offer unbeatable grip, which translates to confidence on even the most technical adventures. Best of all, Astral is based in Asheville with a focus on low-impact manufacturing practices, so you can feel good about supporting a local business that has its heart in the right place.
How do you practice the Leave No Trace principles?
I can't stress enough the importance of Leave No Trace and keeping a light footprint in these beautiful places that we need to protect. We all know the harm it does to our planet and its inhabitants to leave behind trash. Check out @packout_pisgah, which is a local initiative aiming to keep the campsites, creeks and trails of Pisgah Forest clean – it really makes an impact to see the difference we can all make.
I'm going to take this a step further and emphasize that LNT not only means cleaning up after yourself, but also leaving the natural environment untouched and treading as lightly as possible. This is a sad story, but hopefully it helps to educate and stress the importance of leaving natural spaces as they are. Ever since arriving in Western NC, it's been a dream of mine to see a hellbender, which is the largest salamander in the United States; they're also on the near threatened list due to the loss and degradation of their habitat. Recently, a friend and I were swimming in the North Mills area and noticed a family picking up large stones and throwing them across the river. I couldn't help but kindly address with them that this practice could be destructive for the delicate species who live in the river, and while they thankfully stopped what they were doing, my friend and I found a dead hellbender in that very spot before leaving. We don't always realize that our actions can cause harm – and that might be the last thing we intend to do – but throwing rocks, stacking cairns, building dams, throwing an apple core out the car window … all those behaviors could seriously damage our fragile ecosystems.
Best places for breakfast/lunch or dinner?
Ah, onto one of my favorite topics: food! For a "treat" kind of breakfast, I love HenDough, where you can get a donut or fried chicken or a sandwich made of both.
In the heart of downtown Hendersonville, West First Wood-Fired offers delicious, wholesome, from-scratch food. I personally can't resist their wild mushroom pizza, but everything on their menu is sure to please your belly and soul.
Downtown Hendersonville is also home to a fantastic lunch eatery, Dandelion, with a standout mission: to provide job training and support services for trauma survivors. For local flavor, the grit bowl is where it's at.
Where do you like to go after outdoor fun?
It's no secret that this area is known for its local craft brews, which are best enjoyed post-recreation, in my opinion! In Henderson County, one of my favorite spots is Bold Rock Cidery, where you can enjoy a craft cider in a lovely outdoor setting; there's a food truck on-site that serves a killer burger. I'm also lucky to live directly across from the Oklawaha Greenway that links to Southern Appalachian Brewery – a fantastic place to grab a cold beer, listen to music and explore nearby 7th Avenue, which is seeing a major revitalization effort and new businesses popping up on the regular. Dry Falls Brewing is another great local haunt for tasty beer and live tunes.
Cool places to stay?
I'm honestly more of a camper, so my best recommendation would be anywhere you can be lulled by the sound of a river all night or catch an epic view upon waking up; best yet, both. But if you find a cabin rental with a hot tub in this area, please advise!
Other sites in the area to see while in the Hendersonville area?
Jump Off Rock is an awesome drive-up site to take in a panoramic view that includes Mount Pisgah and Cold Mountain. YAM (Yoga & Massage of Hendersonville) offers a free sunset class there at 6 p.m. every Monday. Whether or not you hop into a class, it's the perfect place to enjoy a picnic and watch the sunset.
What is your can't-miss experience in the Hendersonville area?
If you're in the area, you have to plan a stop at the Riveter, which is the nation's only combined climbing gym, bike park, yoga studio and bar. The activities in each zone are completely approachable for beginners and progress through expert level, and there are rental bikes and climbing gear if you don't have your own.
Insider tip!
If you come in late spring/early summer, you're more likely to see the blue ghost fireflies, which is an experience of a lifetime. But if you come during the fall, you'll be able to orchard crawl during apple season. So maybe stay all season long!
This article was produced in partnership with Henderson County TDA. Visit Outdoor NC for additional tips on how to connect with nature and help preserve the natural beauty of our state.
Updated August 17, 2022