Plan an Iconic Trip to North Carolina's Outer Banks
The Outer Banks encompasses a 130-mile stretch of barrier islands on North Carolina's northern coast. The region is home to well-known beaches, quaint towns and quiet fishing villages. Plus, many iconic monuments and natural wonders dot the landscape. The combination makes this an ideal destination for a summer beach vacation or an offseason coastal getaway.
The Intrigue of Roanoke Island
Roanoke Island is site of the New World's first English settlement, which was founded nearly 450 years ago. When supply ships returned three years later, all the colonists had vanished. Their fate remains unknown, but you can formulate your theory after a visit to Roanoke Island Festival Park. See what the colonists encountered at the Native American village and experience their daily life at the Settlement Site or aboard the Elizabeth II, a replica of a 16th-century merchant ship. Visitors can ask questions of re-enactors, including a blacksmith who pounds out implements. Kids can try on period garb inside Roanoke Adventure Museum. Its other exhibits, including one about the local Civil War battle, are a hit with older visitors.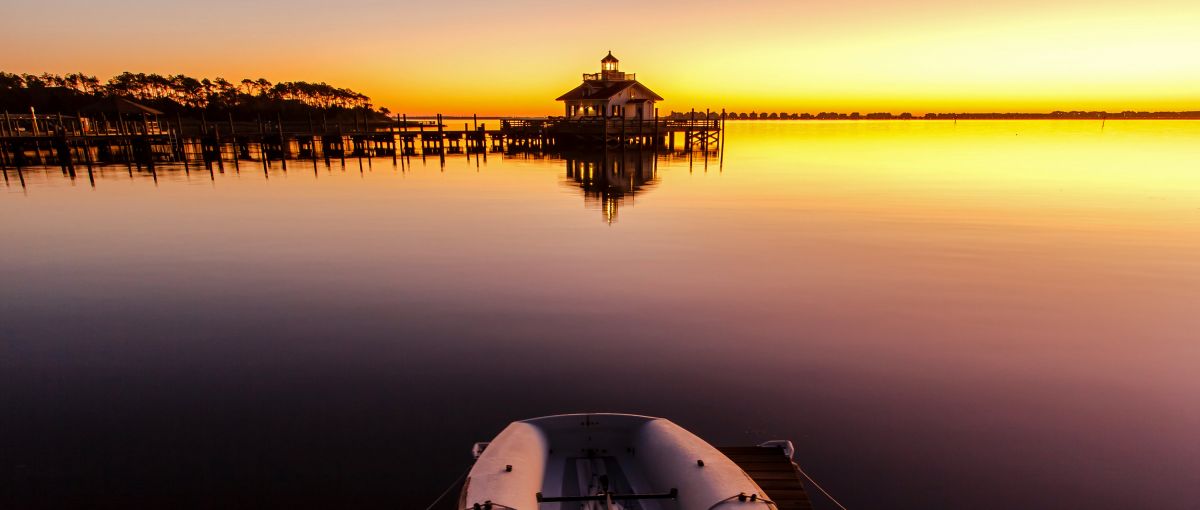 The island, which separates Roanoke and Croatan sounds, has hosted fishing ports for more than 1,000 years. Commercial vessels return to Wanchese with seafood – blue crabs, tuna and shrimp – during warmer months. Purchase it fresh or made into lunch at O'Neal's Sea Harvest. If you want a landlubber meal, try the smoky pulled pork at Poor Richard's Sandwich Shop in Manteo, where stores and history, such as Roanoke Marshes Lighthouse, combine for a perfect afternoon stroll.
Manteo is home to the National Wildlife Refuges Visitor Center. Stop for its interactive displays, including a virtual airplane ride, and access information for nearby 150,000-plus-acre Alligator River National Wildlife Refuge. Its woods, water and wide-open spaces are home to birds, black bears, alligators and red wolves, which were once considered extinct in the wild. That diversity is matched by local lore, including long-gone Buffalo City, which boomed with bootlegging and logging. Guides, whether on a Kitty Hawk Kites kayak tour of the canals and creeks or the open-air tram tour of the backroads, give the best introduction to the refuge and its residents. Regardless of which you chose, pack weather-appropriate clothing, drinking water, insect repellent, a camera and binoculars.
Barrier Island Aviation offers views as brilliant as its red vintage biplane. Don goggles and a leather aviator cap for hops over the island, Bodie Island Lighthouse or Kitty Hawk. The flights offer a perspective of the islands, shipwrecks and even dolphins that you'll talk about forever. The words to describe a tandem jump with Skydive OBX won't come as easily. Its plane takes you to 9,000 feet. Freefall lasts about 30 seconds before the parachute opens and you float to a soft landing. Novices aren't an issue but cameras are, so arrange for the video and photo package.
First Flight and Largest Sand Dunes
U.S. Highway 64 East goes from Roanoke Island to N.C. Highway 12, the Outer Banks' north-south thoroughfare. Head north on it and you'll find Wright Brothers National Memorial, where powered flight began. You'll see the monument on Big Kill Devil Hill first, but begin at the visitors center to examine exhibits that detail man's quest for flight, listen to park rangers' inspired recounts of Orville and Wilbur's trials and tribulations, and admire newer artifacts that include a 5-foot section of cloth from the wing that has never been displayed before. Walking the grassy grounds can take a few hours. Imagine the difficult conditions among the desolate dunes and gusts at replicas of the Wrights' simple camp and hanger. You'll feel their excitement on the flight line, where take off and each landing is marked.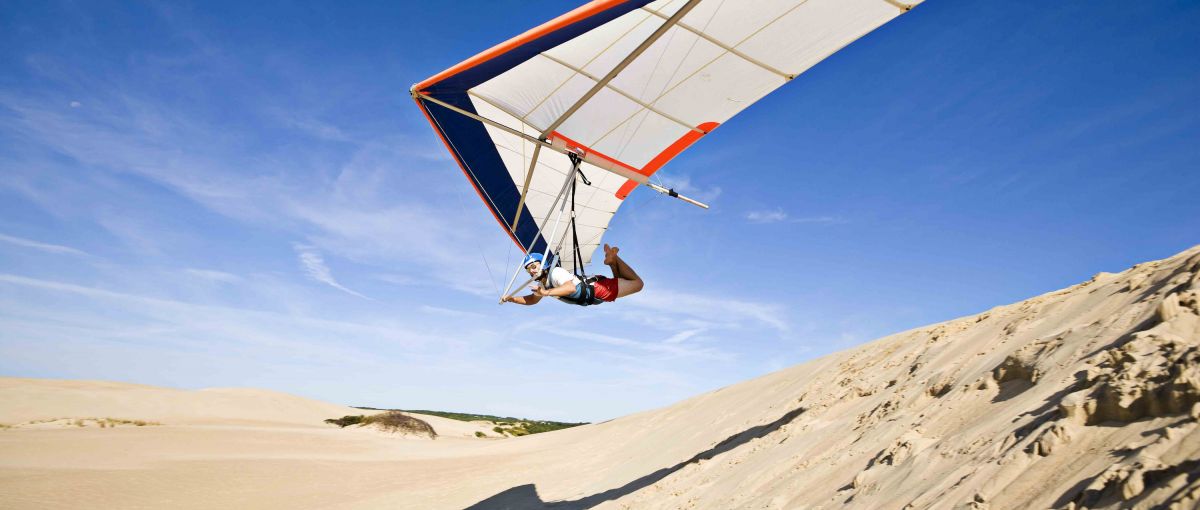 There's a day's worth of exploring at Jockey's Ridge State Park. Start at the museum, learning about the local environment, from six-lined racerunners – North America's fastest lizards – to fulgurites, the rocky remnants of lightning strikes. Walk the 360-foot boardwalk and trails before a picnic lunch at one of eight shelters. Climb Jockey's Ridge, the largest active sand dune on the East Coast, to enjoy panoramic views and persistent breezes that are perfect for kite flying. Hang gliding is popular, too, though it requires an instructor's assistance.
Shipwrecks and America's Tallest Lighthouse
The southern stretch of N.C. 12 parallels The Graveyard of the Atlantic, where more than 5,000 ships have been lost to current, shoals and German submarines. The navigation hazards spurred the construction of Chicamacomico Life-Saving Station in Rodanthe in 1874. It played a role in two of the biggest maritime rescues, including 42 sailors from the Mirlo, which was sunk by a torpedo in 1918. Tour the buildings and experience life for the forerunners of today's Coast Guardsmen through stories, photos and artifacts, including the surfboat used in the Mirlo rescue.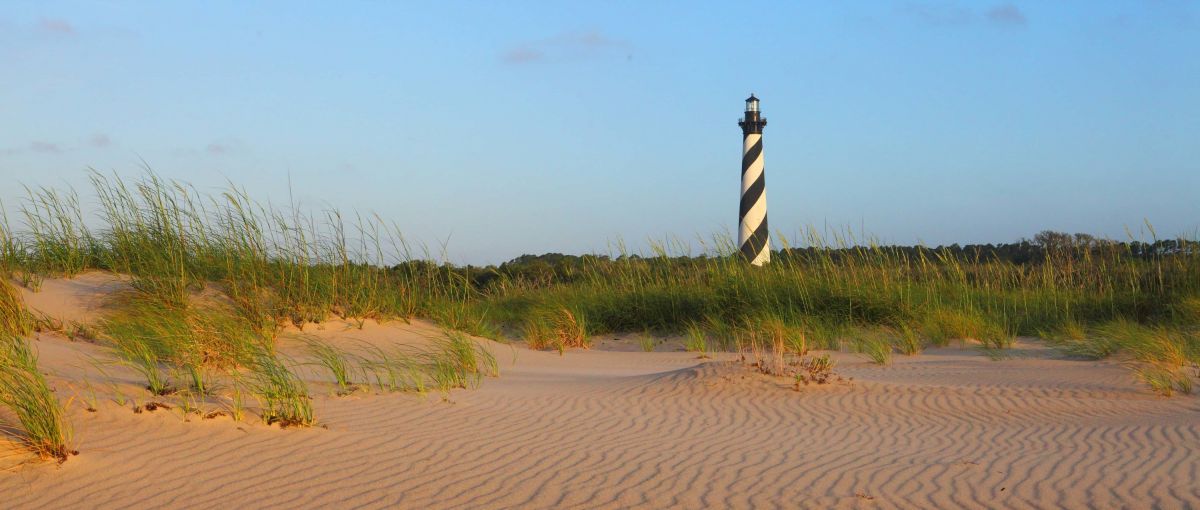 Cape Hatteras National Seashore, which stretches from Oregon Inlet to Ocracoke Island, is where the infamous pirate Blackbeard pillaged and met his fate. Today, recreation reigns. The warm waters and winds create conditions right for riding kiteboards. The wide beaches are perfect for walks and driving vehicles capable of going off-road (i.e., 4-wheel drive), either yours or rented locally. You'll need a permit, which can be purchased online, and to obey rules. It's an exciting way to find surf-fishing spots or watch wildlife.
The seashore is home to the Outer Banks' most recognizable landmark: Cape Hatteras Lighthouse. It's a strenuous climb up 257 steps to the balcony, but you're rewarded with spectacular views, especially during monthly full moon tours. There's also plenty to see if you choose to stay at the base of the lighthouse. Museum of the Sea exhibits fill the double keeper's cottage, and some depict the lighthouse's incredible move in 1999. Across the parking lot is one of the seashore's three lifeguard-patrolled beaches. The average air temperature reaches the 70s in late April, so feeling sand between your toes usually happens before swimming.
This article was produced in partnership with Outer Banks Visitors Bureau.
Updated June 22, 2020