Sea Turtle Attractions on the North Carolina Coast
Hundreds of sea turtles come ashore to nest on North Carolina's beaches each summer. These loggerheads, leatherbacks, ridleys and green sea turtles lay eggs by the hundred, then return to the sea. Thousands of hatchlings emerge and follow their instincts toward the ocean. Those that survive into adulthood may even eventually return to the same beach to lay eggs of their own.
Learn more about North Carolina's sea turtles – as well as efforts to protect them – at a number of attractions on the coast.
1

Karen Beasley Sea Turtle Rescue and Rehabilitation Center
1

Karen Beasley Sea Turtle Rescue and Rehabilitation Center

Surf City

See on map
This Topsail-area sea turtle hospital is among the largest on the East Coast. Staffed entirely by volunteers, its mission is to rescue, care for and release sick and injured sea turtles. Visitors can learn about the turtles' remarkable life journey and efforts to improve their odds of survival. The facility offers public tours during warm-weather months and a gift shop stocked with turtle T-shirts and more.
2

North Carolina Aquariums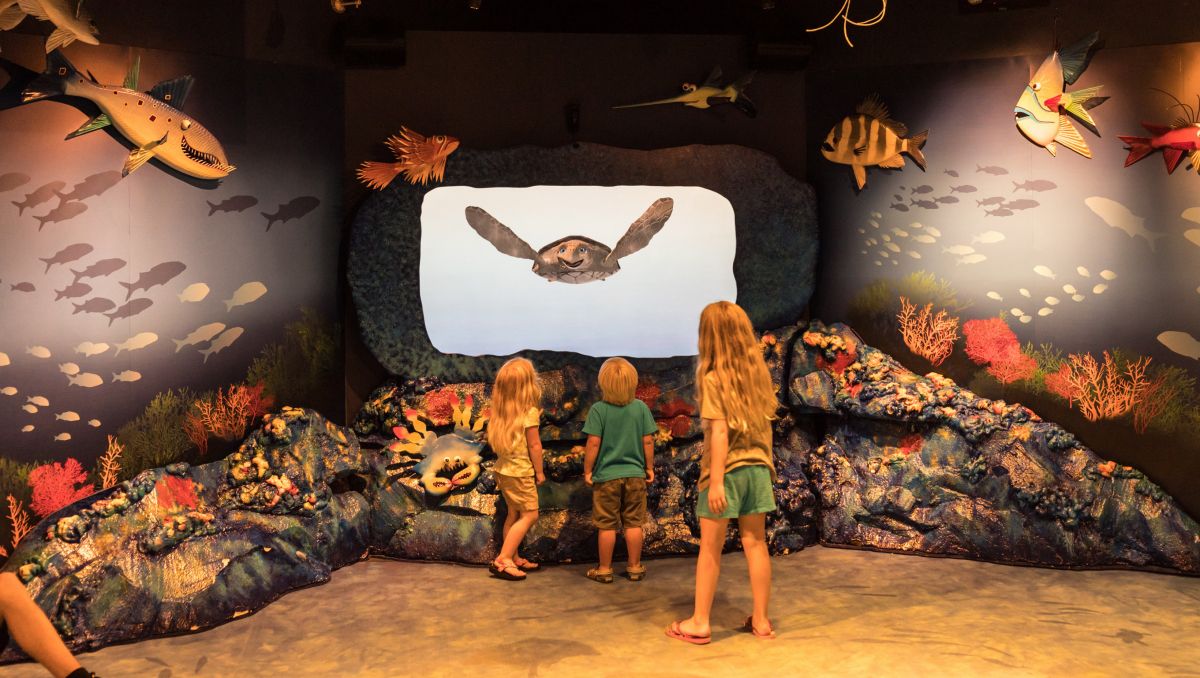 2

North Carolina Aquariums

3 locations

See on map
Sea turtles are highly visible at all three North Carolina Aquariums, which are also involved in rescue, rehabilitation and release. The Aquarium on Roanoke Island, located on the Outer Banks, features a Sea Turtle Rescue exhibit. Visitors to the Aquarium at Pine Knoll Shores on the Crystal Coast can follow the journey of loggerhead sea turtles – and even speak with one – in the Loggerhead Odyssey exhibit. In the Wilmington area, The Aquarium at Fort Fisher features turtle exhibits and Turtle Talks at the adjacent Fort Fisher State Recreational Area.
3

Bald Head Island Conservancy
3

Bald Head Island Conservancy

Bald Head Island

See on map
Residents of this nature-loving barrier island have watched over sea turtles since 1980. Today, through the Bald Head Island Conservancy, visitors have a range of opportunities to learn about turtle activity on one of the highest-density nesting beaches within the loggerhead's northern range. Among the possibilities are Nest and Sea Turtle Patrol Ride-Alongs, nighttime Turtle Walks during summer months (membership required) and Sea Turtles of BHI talks with Conservancy staff.
Turtle Talks
A number of local organizations also offer turtle talks during summer months:
Brunswick Islands
Holden Beach
June through August
Wednesdays, 7 p.m., Holden Beach Town Hall
Ocean Isle Beach
mid-May through September
Mondays, 3:30 p.m., Coastal Carolina Museum
Tuesdays, 7 p.m., OIB Community Center
Sunset Beach
mid-June to late August
Sundays, 7 p.m., Sunset Properties

Wilmington
Carolina Beach
mid-June through late August
Wednesdays, 7 p.m., Carolina Beach State Park
Kure Beach
mid-June through late August
Mondays, 7 p.m., Ocean Front Pavilion
Wrightsville Beach
June through August
Tuesdays, 7 p.m., N.C. Coastal Federation
Updated February 22, 2018