12 Months for Memories: 4-Season Experiences in Franklin & Nantahala, NC
Are you more of a year-out travel planner, a last-minute planner, a squeeze-it-in-between-my-kid's-soccer-tournament planner or a work-around-my-work-trip planner? Whatever your type, keep Franklin and Nantahala on your radar. With heart-pumping adventures, scenic hikes and waterfalls, and cozy lodging options, this special spot in the North Carolina mountains offers year-round interest and options.
Spring
Visit in spring and watch nature's paradise reawaken in a surge of colors. With pleasant temperatures and longer days, it's one of the best times of the year to hit local hiking trails. Try Cullasaja River Gorge, where four waterfalls, a swimming hole, picnic areas and fly-fishing promise a variety of adventures over a 9-mile stretch. You'll have a favorite wildflower before the hike is over.
Spring also marks opening day for Highlands Aerial Park, where zip line canopy tours show off the lush view from a new vantage point and experiences range from an eight-line canopy tour to a backyard swing. And if heights just aren't your thing, breathe in all the fresh air from the complimentary hiking trails on the 96-acre property.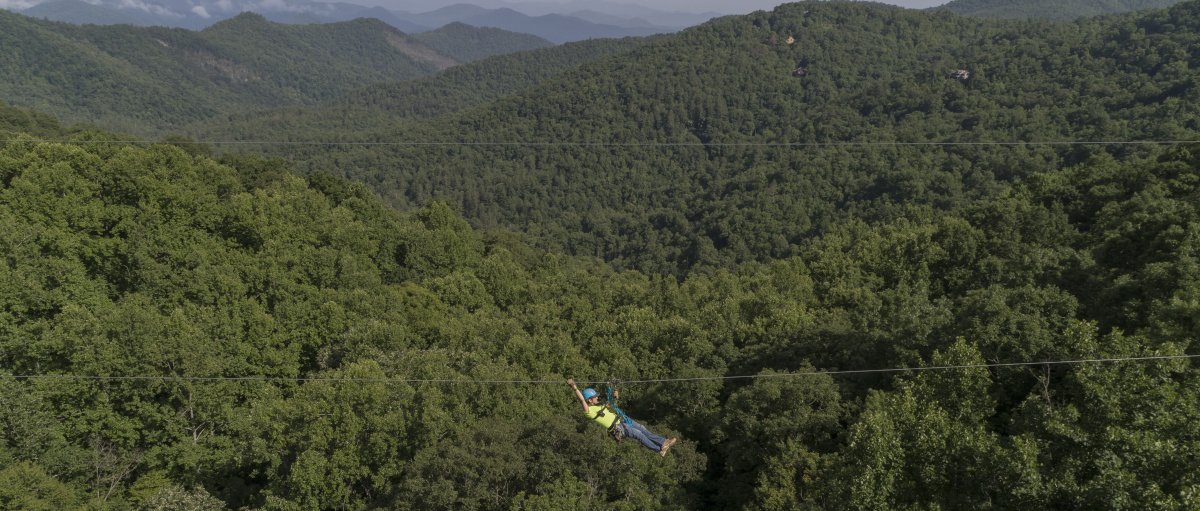 Summer
As the weather warms even more, it's all about that lake life. Rent a pontoon, fishing boat, kayak or jet ski and spend all day floating on Lake Nantahala's pristine waters and exploring its coves and inlets, all while admiring the surrounding mountains. Lakes End Marina can get you on the water any way you want, and it's also a perfect lunchtime stop: Lakes End Café and Grill offers a full menu of sandwiches, salads, pizza and burgers overlooking the lake. An on-site convenience store can also replenish your snacks and beverages before heading back to the boat after lunch. Pro tip: Many waterfront vacation rentals sport private docks.
If you need a dose of adrenaline after a day of lazy floats, then rushing rapids is next on your summer vacation itinerary. The Nantahala River boasts Class I and Class II rapids, but the final 8 miles – the Class III "Nantahala Falls" – are some of the best rapids in the country. Trips down the river typically take three hours, and outfitters such as Wildwater and Rolling Thunder River Company will have you navigating the water like a pro. Other river adventures include fly-fishing (don't forget your permit) and paddling in inflatable kayaks called "duckies."
You're used to tubes on water at this point – but tubes on land? In summer? Leave it to Highlands Outpost, where year-round tubing is fun for everyone 4 years old and up. The outpost is also home to the Scaly Mountain Screamer, the longest mountain coaster in NC at 3,800 feet. Make a day of this stop by adding in the gem mine and some fishing at the trout farm.
Fall
Fall in Franklin and Nantahala includes all the best parts of the season: epic foliage, seasonal events, cooler evenings perfect for fireside relaxation and sunsets over the lake. Find a homebase for your fall getaway at stayNantahala, where lakefront cabins, mountainside cabins and luxury yurts – all sporting amenities such as hot tubs, huge stone fireplaces or outdoor firepits – make it hard to leave.
Expect peak foliage around mid-October, and historic Wayah Bald Tower offers one of the best panoramic views of the fall color explosion. Easily accessible by car, the stone tower sits over a mile high in elevation. Other popular outdoor adventures in the area include hiking through 100 miles of the Appalachian Trail, hiking the Bartram Trail, and catching the sunrise or sunset on Wesser Bald Tower.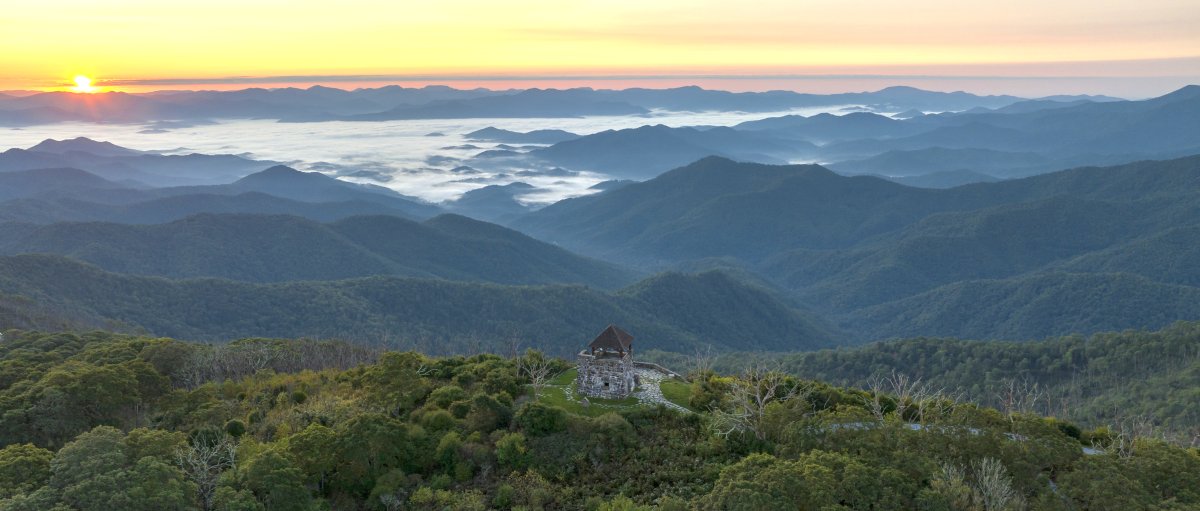 Lean into everyone's favorite flavor of the season at Franklin's annual Pumpkinfest, where traditional and not-so-traditional activities – pumpkin rolling competition and pumpkin pie-eating contest, anyone? – fill downtown Franklin with autumnal joy every October. Costumes are encouraged.
Winter
The area gets quieter in November, but that means there are more opportunities to relish in undisturbed nature. Winter hikes are perhaps most rewarding with the crowds gone and unobstructed views at their best. Try venturing up Whiteside Mountain for a moderate, 2-mile hike, or discovering one of the area's waterfalls through a wintry lens. And don't forget that Highlands Outpost offers snow tubing in addition to its summer tubing.
An incredible indoor option for winter entertainment is at the Smoky Mountain Center for the Performing Arts. Nabbing big-name performers while also putting on family-friendly shows, plays and musicals has made it a popular facility among both locals and visitors. Check the calendar to see what's playing during your stay.
Much like Pumpkinfest, Franklin's Winter Wonderland marks the perfect way to spend a Saturday before the holidays: crossing items off your shopping list at local stores, sipping hot cider, enjoying live music and admiring dazzling light displays.
The beauty of this area is that you can mix and match most adventures to fit into any season you visit – meaning no matter when, you're going to love your views and adventures in this special corner of Western NC.
This article was produced in partnership with, and all photos are courtesy of, Franklin & Nantahala TDC.
Updated June 1, 2023